The FFG Flensburger Fahrzeugbau Gesellschaft mbH (FFG) returns in the period from 2023 to 2025 five bison 2 armored recovery vehicles to Hungary and Pionierpanzerkits in 40-foot containers and Minenräumkits in 20-foot containers. In addition, a host of facilities for spare parts, special tools and test equipment. Technical Documentation for the Bison 2 training for future operators and repairers complete the service package.
Hungary is so beside Canada (18 bison 2) and Norway (12 Wisent 2) already the third NATO country that introduces the versatile support vehicle of the FFG in its armed forces. Other users nations are the United Arab Emirates and Qatar. The total number of bison 2 production increases with the new supply contract for 45 vehicles since, 2015.
The recovery vehicle belonging to a major order with armored vehicles, the Hungarians in 2018 with Krauss-Maffei Wegmann (KMW) has completed. The contract, worth 565 million euros includes in addition to the armored recovery vehicles 44 newly manufactured tank Leopard 2A7 + and fight 24 newly manufactured howitzers PzH2000 and 12 used Leopard 2 A4 training purposes.
KMW end of 2019 mandated the FFG to make the recovery tank bison 2 described above including accessories and deliver.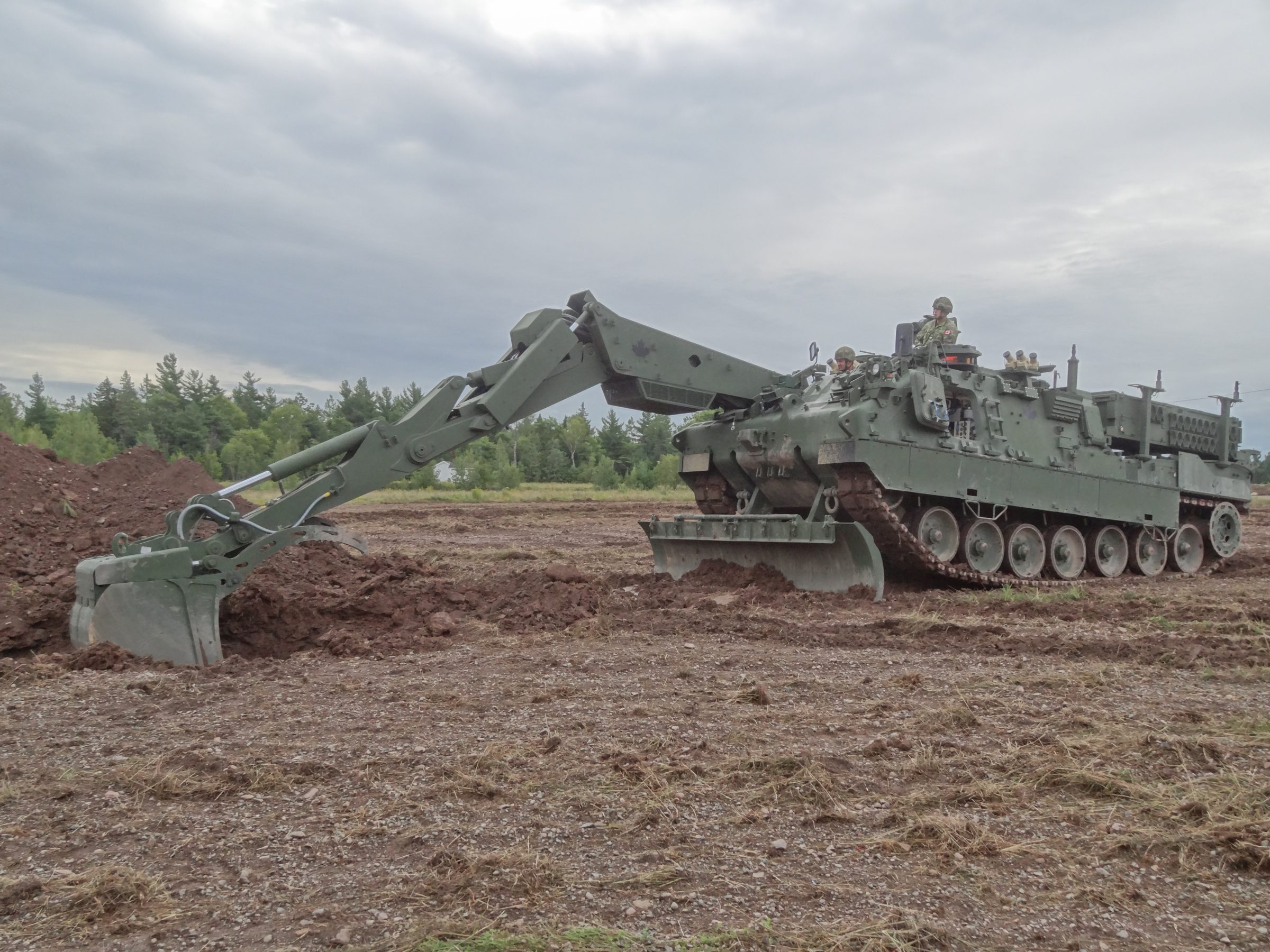 The items supplied with bison 2 Pionierpanzerkits allow the troops to rebuild the recovery vehicle in a short time to a full-fledged engineer vehicles. In this configuration, the bison is a candidate for the replacement of obsolete Pionierpanzer 2 roof, the plans to replace the army in the foreseeable future.
Technical specifications

Multi-purpose platform bison 2
Max. total weight
69.5 tons
drive
1,100 kW
top speed
68 km / h
creep
3 km / h
Protection
configurable against ballistic threats and mines / IEDs, qualified according to STANAG 4569
Bergepanzer
crane
32 tons
main winch
40 tonnes, cable 160 m
auxiliary winch
2.3 tons, 280 m rope
dozer blade
Clearing capacity of 400 m³ / h
Equipment
Battlefield recovery equipment with a camera system (for recovery under protection)
Pionierpanzer
Excavator with backhoe and hydraulic interface for tools
Range: m 9,
shovel volume
1.3 m³
excavator power
260 m³ / h
lifting capacity
4 tons (at full throat)
Equipment
Spezialräumschild, concrete breakers, augers
flail tank
Equipment
A mineplough as over the entire vehicle width, marking system for mine lanes, magnetic field generator (to activate mines)
Gerhard Heiming