Subscription | European Security and Technology
---
ESUT

Digital

Access
Out faster. decide.Get access to all online content of ESUT portal for the German economy. , Clearly structured accumulated knowledge and bundled. You are just a few clicks away. The ESUT portal is being expanded daily and improved. Take advantage now of exclusive benefits: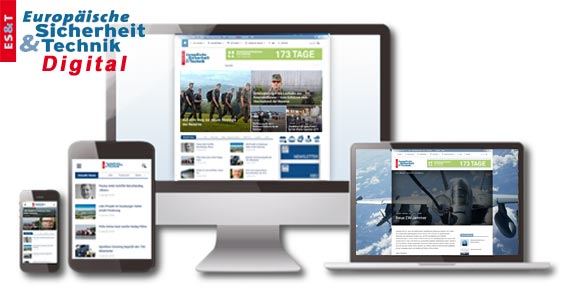 Zugang zu allen Online-Inhalten (kein Zugang zu PDF Versionen)

comprehensive search in the news archive
Individualized news section
Backgrounds, analyzes and technical articles completely and exclusively from the European Security and Technology and the Bundeswehr Technical Reports
Daily news from the categories Industry / Homeland Security / International / country / air / politics / military / lake / Armed Forces and many more.
ESUT

Print Subscription
The thematic priorities:
security policy
Bundeswehr
Armed Forces International
Defense Technology and Armor
IT and Cyber ​​Security
Logistics
Emergency service
Security research and much more.

reader service
Your address or bank account has changed? An output of you subscribe title, has not reached?
For questions about your subscription to "European Security and Technology", "European Security and Defense", "Marine Forum" or "Mid-letter" is our reader service at your disposal:
PressUp GmbH
Postfach 70 13 11, D-22013 Hamburg
Phone (040) 38 66 66 -319
Fax (040) 38 66 66 -299
e-mailmittler-report@pressup.de
your premium
Select when ordering from the following bonuses:
Wiley X - Ballistic goggles
Saber Advanced Smoke (Matte Black Frame)
the Reibert
The manual for the German soldiers
902 pages, pocket size
Wehr Technical Report
Soldier and Technology 2019
Privacy Statement



(1) Wenn Sie ein Abonnement abschließen möchten, ist es für den Vertragsabschluss erforderlich, dass Sie Ihre persönlichen Daten angeben, die wir für die Abwicklung Ihrer Bestellung benötigen. Für die Abwicklung der Verträge notwendige Pflichtangaben sind gesondert markiert, weitere Angaben sind freiwillig. Die von Ihnen angegebenen Daten verarbeiten wir zur Abwicklung Ihrer Bestellung und können diese zu diesem Zweck an einen mit dieser Aufgabe beauftragten externen Dienstleister weitergeben. Zudem können wir Ihre Zahlungsdaten an unsere Hausbank weitergeben. Rechtsgrundlage hierfür ist Art. 6 Abs. 1 S. 1 lit. b oder lit. f DS-GVO.

Wir können die von Ihnen angegebenen Daten zudem verarbeiten, um Sie über weitere interessante Produkte aus unserem Portfolio zu informieren oder Ihnen E-Mails mit technischen Informationen zukommen lassen. Rechtsgrundlage hierfür ist Art. 6 Abs. 1 S. 1 lit. f DS-GVO.

(2) Wir sind aufgrund handels- und steuerrechtlicher Vorgaben verpflichtet, Ihre Adress-, Zahlungs- und Bestelldaten für die Dauer von zehn Jahren zu speichern. Allerdings nehmen wir nach zwei Jahren eine Einschränkung der Verarbeitung vor, d. h. Ihre Daten werden nur zur Einhaltung der gesetzlichen Verpflichtungen eingesetzt. Die Rechtsgrundlage für die Verarbeitung personenbezogener Daten zu Zwecken der Erfüllung der gesetzlichen Archivierungs- und Aufbewahrungspflichten ist Art. 6 Abs. 1 S. 1 lit. c) DS-GVO.

Bitte entnehmen Sie weitere Informationen unserer Privacy Statement.
---