---
Germany's leading monthly magazine for security policy and defense technology
emerged from
Europäische Sicherheit (founded 1952)

Strategie & Technik (founded in 1958 as a service magazine of the Armed Forces under the title "Soldat und Technik")
Topics:
security policy

Development of the Bundeswehr

Armed Forces International

Armament

Weapons systems and equipment

Defense Technology International

Defense and Safety Industry

Research and Technology

Emergency service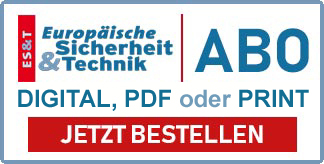 Chief Editor: Rolf Clement
Head of Services: Lieutenant Colonel Wilhelm Bocklet
Marketing / Advertising Manager: Jurgen Hensel

Europäische Sicherheit & Technik wird auf vertraglicher Grundlage in Zusammenarbeit mit dem Bundesministerium der Verteidigung / der Bundeswehr herausgegeben und ist Organ der Gesellschaft für Sicherheitspolitik e.V. (GSP) sowie der Clausewitz-Gesellschaft e.V.
reader service
Ihre Adresse oder Ihre Bankverbindung hat sich geändert? Eine Ausgabe des von Ihnen abonnierten Titels hat Sie nicht erreicht?
Bei Fragen rund um Ihr Abonnement von "Europäische Sicherheit & Technik" steht unser Leserservice zu Ihrer Verfügung:
PressUp GmbH
Postfach 70 13 11, D-22013 Hamburg
Phone (040) 38 66 66 -319
Fax (040) 38 66 66 -299
Email mittler-report@pressup.de