The outer limits GmbH was founded in 2007 at the suggestion of special units and manufacturers with which Thomas Oswald is connected and worked. It is headquartered in Oberwart in Austria and offers high-quality equipment and training for tactical divers as well as operational and rescue forces.
ES & T: outer limits that specializes in the needs of special forces from the police and military. What is your portfolio?
Oswald: We provide the special equipment for amphibious use both underwater and above water. The divers portfolio begins with the personal basic equipment such as fins, mask, etc. and ranges from dry suits, waterproof carrying bags, gun bags, etc., up to underwater movement means and vehicles. For overwater operations, we offer special dry suits to boarding systems and various boats on the entire range.
In addition, we also produce always special solutions, such as waterproof courier bags, flotation devices, etc. according to customer requirements. We also have many manufacturers international and / or European distribution rights, or even their official Senior Consultant.
ES & T: In addition to sales, you also take on the design and the design of equipment, produced outer-limits even yourself?
Oswald: outer-limits itself does not produce. We create the design and material selection, and then awarded the license for the production of selected companies exclusively in Europe, to guarantee short routes and quick service response, and continuous quality control is carried out on our part. The testing of the prototypes, and the end products are then our responsibility, but we also cooperate here again and again with active use organizations.
ES & T: The (land) uniforms of the soldiers the subject of FR (flame-retardant) plays an important issue, FR is also in demand in the dry suits and plate carriers? What does this mean for the choice of materials and manufacturing?
Oswald: Also we provide and produce upon request dry suits and plate support as FR standards. Primarily, however, such requests relate to dry suits and other equipment for boarding operations. is here for diving operations rather less demand to this specification, but we have also suits usw.in FR at a NATO member delivered.
ES & T: What are currently the other capacity demands on their equipment?
Oswald: The requirements are robustness, reliability, modularity, ease of use and rapid support.
ES & T: The KSK monitors the use of modified dry suits as protection against the cold for snipers in extreme climatic locations, how do you evaluate these considerations?
Oswald: we have something for years in the program. Also a model that can be worn under the regular uniform. These are internationally already in large numbers in use in Germany.
ES & T: Special forces often use the darkness as a decisive advantage over the enemy. Here is gripped back to night vision and thermal imaging equipment. Is there such equipment for divers?
Oswald: Yes, also we can offer something in cooperation with our partners. And some of our materials that we use for dry suits absorb IR and thermal.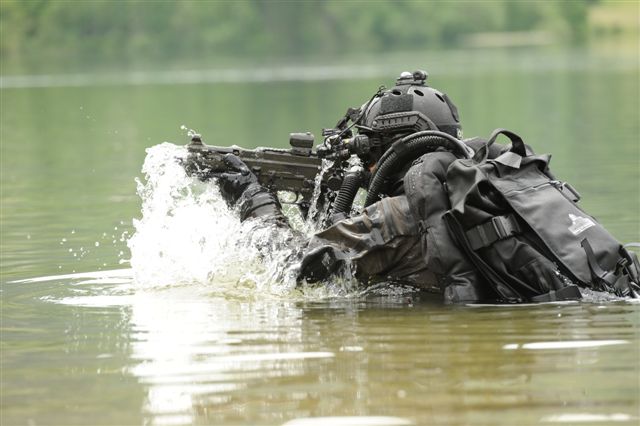 ES & T: Once a year, in September, and this year for the 9th time there are in the Austrian mountains, the outer-limits Experience Week, which is made possible using forces from around the world there?
Oswald: As part of this "Experience Week" we show the latest equipment. Locally mountain lake, this can then also be tested immediately. The event also provides direct contact with various manufacturers as well as the communication exchange with units from other countries.
In September our partners SIEL will show its latest developments in rebreather and underwater communication (Ultrasonic and VHF). Suex brings his underwater scooter and navigation systems, the Advacotec AG his diving helmets, LIBERVIT underwater hydraulic breaking and spreading tool and ANDRES DEFENSE night vision devices already mentioned above.
Other exhibitors will be: SHARK MARINE (navigation systems), WAYLAND (kayaks), SR TACTICAL (plate support and accessories), INDIGO (tactical diving equipment), OLYMPIA TRIUMPH (boarding and access equipment), SMART DIGITAL CONCEPTS (drones) and SCUBAPRO (scuba gear) to be.
Interview by André Forkert.