Der Einsatz von UGVs (Unmanned Ground Vehicles/Unbemannte Landfahrzeuge) gewinnt bei taktischen Operationen zunehmend an Bedeutung. Neben den schnellen Entwicklungsfortschritten bei unbemannten Luftfahrzeugen (UAV) verfügen auch UGVs über richtungsweisende Technologien hinsichtlich zukünftiger militärischer Einsatzszenarien. Die teil- und vollautonom agierenden Bodensysteme unterstützen in der Logistik und der Gefahrenabwehr sowie beim ABC-Schutz und übernehmen Rollen bei der Kampfmittelbeseitigung bis hin zu Aufklärung und Evakuierung. Dabei können sich die ferngesteuerten Fahrzeuge dank ihrer hoch entwickelten Sensoren und Algorithmen auch in schwierigem Terrain geräuscharm und selbstständig bewegen.
The UGV system solutions from TELEFUNKEN RACOMS and Elbit Systems enable groundbreaking capabilities to be integrated into the digital and increasingly networked military environment. The high dynamics of current conflicts and crises require the continuous interaction of manned and unmanned systems. Appropriately designed human-machine interfaces and efficient role allocation are of fundamental importance.
Tactical reconnaissance
IRIS (Individual Robotic Intelligence System) is a light, unmanned micro ground vehicle. The UGV has been developed for exploration and reconnaissance in narrow areas of application, buildings as well as above and below ground danger zones. The range of tasks of IRIS includes military reconnaissance and surveillance functions, urban warfare and underground and sewer inspections. The UGV can only be operated by one man and can infiltrate through a window in urban scenarios. The system can then be used regardless of its landing position. Due to the mutual usability and high resistance of its components, the system also works under extreme conditions
Operating conditions. The sensors integrated in the housing enable image, video and audio transmission in real time. These work day and night and illuminate the environment with an integrated near-infrared LED module. The on-board camera unit can be swiveled up to +/- 90 ° for a maximum field of view.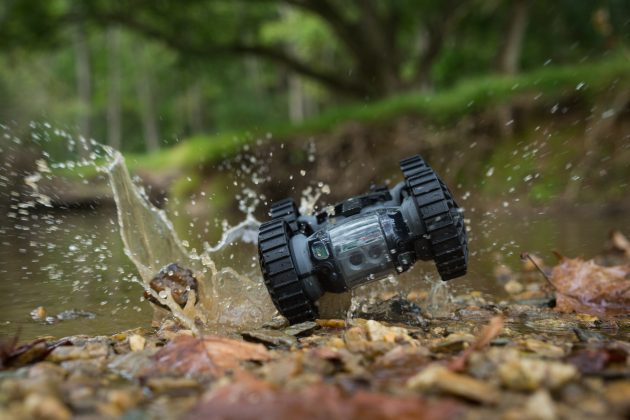 The system can be used for several hours longer by changing the battery on site. IRIS is already being used by a German police special unit.
Ordnance disposal and hazardous substances
Reconnaissance and surveillance functions are also part of the scope of modern unmanned land vehicles such as counter-IED or ABC countermeasures.
The MTGR (Micro Tactical Ground Robot) is a light tactical UGV and is characterized by its high maneuverability in all types of terrain. MTGR can be used in houses as well as in the field by only one operator. The portable
System convinces with compactness (45.5 x 36.8 x 14.5 cm) and great flexibility. Two independently pivoting caterpillar tracks enable you to climb stairs and overcome high obstacles. With its powerful gripper (manipulator), the MTGR is predestined for testing hazardous substances and objects such as IEDs. With the help of the 360 ​​° day and night vision cameras, all activities are transmitted to the operator in real time. The UGV can lift, move and remove objects weighing up to 5 kg. With the help of different payloads, the system can be equipped with observation cameras, X-ray scanners or even tools for bomb defusing. MTGR also has optionally mountable sensors for ABC defense.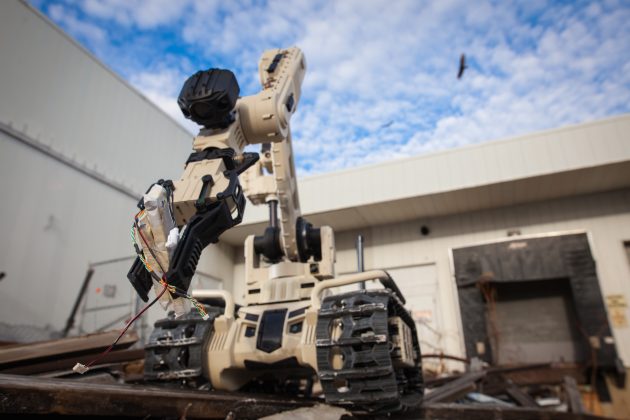 The big brother of the MTGR system is the portable and interoperable TIGR floor robot - a high-performance system for complex application scenarios. Its size (91.2 x 58.8 x 35.3 cm) and its extended capabilities enable the UGV to take on several tasks in parallel. The UGV's high off-road capability is based on two independently controllable caterpillar tracks. Thanks to its modular structure, the TIGR can carry several payloads in parallel. This enables the UGV to perform tasks such as ordnance disposal and ABC defense with optimal awareness of the situation by using several camera and sensor systems.
Autonomous logistics and education
Evacuation support. With different payloads, PROBOT can take on partially and fully autonomous reconnaissance and monitoring functions. The UGV has an electric 4 × 4 wheel drive, which can optionally be expanded by installing a track chain. PROBOT can transport heavy loads of up to 750 kg at high speed. The UGV chassis is designed for high strength and maximum weight savings. Numerous breakpoints allow the load to be easily fixed using tension belts. With its compact dimensions of 1.95 m in length, a height of 1.26 m and 1.06 m in width, the UGV remains capable of action even in forested or narrow urban terrain and can orient itself independently. In addition, the wading depth of 1 m also allows water to be crossed.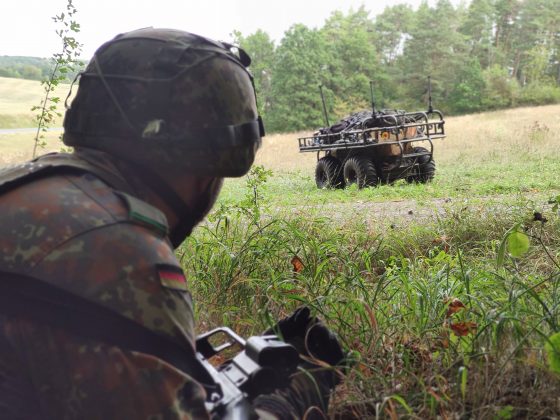 With flexible structures, the UGV can be used to support logistics and medical units as well as disaster relief. For example, PROBOT can also carry out wounded transports partially and fully autonomously. The system remains manually controllable using a control module or can automatically follow a soldier using the "follow-the-leader" function. In addition, several PROBOTS can follow each other in convoy mode and orientate themselves at given GPS coordinates.
PROBOT ist mit einem 360° Tag- und Nachtsicht-Kamerasystem ausgestattet und kann für Aufklärungsoperationen bis zu 8 verschiedene Kameras mitführen. Auch die Integration von alternativen Antriebsformen, wie z.B. einer Brennstoffzelle ist durchführbar. Die Adaption von Zielerfassungssensoren und ferngesteuerten Waffenstationen auf PROBOT ist ebenfalls möglich. PROBOT erfüllt im Einsatz bei den britischen Streitkräften bereits ein breites Aufgabenspektrum und wurde auch bei den deutschen Streitkräften bereits erfolgereich erprobt. Die unbemannten Systeme IRIS, TIGR, MTGR und PROBOT steigern die Effektivität von Bodentruppen in unterschiedlichen Einsatzszenarien – von Aufklärung und Kampfmittelbeseitigung bis hin zu logistischer Unterstützung. Durch ihre Interoperabilität und Intelligenz bilden unbemannte Landfahrzeuge einen weiteren wichtigen Baustein für die moderne, vernetzte Gefechtsführung.
CONNECTING. YOUR. MISSION. – dafür steht TELEFUNKEN RACOMS
TELEFUNKEN Radio Communication Systems GmbH & Co. KG
Eberhard-Finckh-Strasse 55,
89075 Ulm, Germany
Phone +49 731 15 53-0
Fax +49 731 15 53-112
info@tfk-racoms.com
www.tfk-racoms.com