Interview with Major General Yoav Har-Even, President and CEO of RAFAEL Advanced Defense Systems Limited
ES & T: What business has references RAFAEL in the army?
Har-Even: RAFAEL kann auf eine erfolgreiche 20-jährige Zusammenarbeit mit der Bundeswehr verweisen. Anfang der 2000er Jahre beschaffte die Luftwaffe für ihre Tornado- und Eurofighter-Flotte den Navigations- und Zielbeleuchtungsbehälter Litening II und die Aufklärungspods Reccelite. Darüber hinaus haben wir auch die Bodenstationen der Luftwaffe für Reccelite und die Drohne Heron geliefert. Wir hoffen, dass sich die Luftwaffe bald für die neuen und innovativen Litening 5 sowie die Reccelite XR-Pods interessieren wird. Seit fast zehn Jahren wird unsere Spike LR erfolgreich von der deutschen Infanterie eingesetzt und bald auch auf dem Schützenpanzer Puma integriert. Die von RAFAEL in Deutschland durchgeführten Programme waren von einem hohen Maß an industrieller Zusammenarbeit geprägt, einschließlich Technologietransfers, z.B. im Bereich taktischer Flugkörper als wesentliche Voraussetzung für die Marktführerschaft des deutschen Unternehmens Eurospike in diesem Segment. RAFAEL hat sich als zuverlässiger Industriepartner erwiesen und bietet einen hohen technologischen Mehrwert für die Programme, an denen das Unternehmen in Deutschland beteiligt ist. Ich möchte auch unsere Beteiligung als Hauptauftragnehmer an ErzUntGlas (Erzeugung eines gläsernen Gefechtsfeldes zur Unterstützung dynamischer Operationen), einer Bundeswehrstudie zur Untersuchung des Einsatzes von Drohnen, erwähnen.
ES & T: Maintains RAFAEL partnerships with German companies?
Har-Even: We can point in different areas with pride in our close cooperation with a number of leading German companies. This is part of our global strategy against the background of growing demand for more international partnerships for the preservation of knowledge transfer and adaptation of existing solutions to the specific needs of the user. These include German companies Diehl Defense for Spike and SPICE, Rheinmetall for Spike, KMW for the active protection system Trophy, Dynamit Nobel Defense for weapon stations and ATOS Germany for ErzUntGlas. This cooperation includes the transfer of high-quality expertise and labor interests. RAFAEL is therefore constantly our mutual ability to meet local needs and operational requirements to meet in search of new partnerships and joint ventures with German companies for cooperation, which will help drive.
ES & T: You mentioned the missile system Spike for the infantry, special forces and as armament for the Puma. What other perspectives are there for Spike in Germany?
Har-Even: The Bundeswehr is a leading user nation of Spike and sets annually dozens of missiles with excellent results in training a. In addition, the Bundeswehr held next May 17 Spike User Club, will participate in all 33 user nations. In addition, Euro Spike offers, our local joint venture with the support of shareholders RAFAEL, RDE & Diehl Defense, a mid-life upgrade for the Tiger combat helicopter with Spike ER2 to as the fifth generation of Spike ER, which is already integrated on this platform ,
ES & T: Which versions and applications for which the missile is in use internationally? How many versions there are in total?
Har-Even: Mit fünf Varianten für Reichweiten von 500 m bis 30 km ist Spike eine hochmoderne, präzise, elektro-optische Flugkörperfamilie für eine Vielzahl von Missionen und Plattformen, die sowohl Fire and Forget als auch Abschuss, Beobachtung und Aktualisierung sowie den Angriff auf versteckte Ziele ermöglicht. Die Spike-Familie der fünften Generation wurde von 33 Nationen ausgewählt, wobei mehr als 30.000 Flugkörper geliefert und in mehr als 45 unterschiedliche Plattformen integriert wurden. Spike ist eines der am häufigsten verwendeten und ausgereiftesten ATGM-Systeme auf dem Markt. Die elektro-optische Führung von Spike ist 100 Prozent immun, was auf seine Passivität und die sehr geringe Anfälligkeit für Störungen, Spoofing und Erkennung im Gegensatz zu lasergeführten Systemen zurückzuführen ist. Von dem in Deutschland von Eurospike gefertigten Waffensystem Spike sind bisher Tausende von Flugkörpern produziert worden, sowohl für den deutschen Markt als auch für den Export. Die länderübergreifenden Gemeinsamkeiten von Flugkörpern und Startgeräten ermöglicht es den Nationen, gemeinsame Flugkörperbestände zu verwalten, gemeinsam zu beschaffen und sich gegenseitig zu unterstützen. In Verbindung mit Produktionsstätten innerhalb Europas bei lokalen KMU ist Spike ein wirklich gemeinsamer europäischer Flugkörper.
ES & T: What does the Firefly variant of the Spike family for dismounted infantry? Is she using?
Har-Even: Spike Firefly is at a user in use, who asked not to be named. There is a slight miniature Loitering Munitions, which was developed for the dismounted infantry used against targets behind cover. Firefly will change the demand for the classic infantry doctrine of target engagement by frontal action against enemy fire, often resulting in losses. Spike Firefly is a portable, armed Koaxialplattform, the two counter-rotating rotors, a miniaturized double viewfinder with uncooled IR and Tagesfarb- as well as proximity sensors comprises for the effect. It weighs less than three kilograms (ammunition), making it one of the leichtesten Loitering Munitions their class.
In addition, Spike Firefly has a bidirectional data connection in military quality that enables the operator to receive real-time images from the search head and attack moving and stationary targets while they are hidden. Firefly has an innovative detachable warhead, which provides in accordance with the operational requirements of the customer growth potential for the implementation of different payloads.
ES & T: What skills do you have for the digitization of the German land forces and the VJTF 2023?
Har-Even: Die Kernkompetenz von RAFAEL besteht darin, eine Kombination aus Digitalisierungstechnologie, Systemarchitektur-Know-how und umfangreicher operativer Erfahrung anbieten zu können, die durch den Einsatz der Systeme und die Unterstützung beim Einsatz solcher Systeme im realen Gefecht gewonnen wurde. Diese Assets können Deutschland sehr effektiv dabei helfen, das gesteckte Ziel zu erreichen und damit die Digitalisierungsfähigkeit der Streitkräfte deutlich zu verbessern. Vor diesem Hintergrund haben wir den revolutionären Fire Weaver entwickelt, ein vernetztes Kampfsystem für taktische Kräfte – nämlich die Sensoren, Effektoren und Kämpfer – und nicht nur für die Kommandeure. Fire Weaver bietet eine präzise und GPS-unabhängige gemeinsame visuelle Sprache in Echtzeit auf dem Waffenvisier (Sensor oder Schütze) und nicht auf einer digitalen Karte, wie sie vom Battlemanagementsystem angezeigt wird. Fire Weaver verbessert die menschliche Analyse und Entscheidungsfindung, indem es automatisch und sofort den relevantesten Effektor für jedes Ziel auswählt, unter Berücksichtigung der Einsatzregeln, des Standortes, der Sichtlinie, des aktuellen Munitionsstatus und vieler anderer Parameter. Fire Weaver arbeitet optimal bei der Verwendung eines leistungsstarken Kommunikationsnetzwerks wie RAFAELs BNET, das mit der patentierten Technologie – Multi-Frequency Channel Reception (MCR) – erweitert wurde, die es ermöglicht, Informationen von Hunderten von Frequenzkanälen gleichzeitig mit einem einzigen RF-Kopf zu empfangen und zu analysieren. Dies ermöglicht eine Netzwerkrate von 100 Mbit/s und erleichtert die Bildung eines einzigen "flachen" Netzwerks, das für bis zu Tausende von Funkgeräten skaliert werden kann.
The Bundeswehr has taken important steps in recent years to improve its operational capability in order to be prepared for the challenges of the future battlefield and future threats. One of the main aspects of these measures is the program D-LBO / TEN - digitization of land-based operations. The introduction of Fire Weaver in the armed forces will lead to a number of significant changes: It will create a common visual language between the various units not only the army but also the allied forces who faced the same threats and missions.
ES & T: Especially in communications and C4I area military customers are often concerned about the so-called black boxes. Is there such black boxes in the solutions that you offer in Germany?
Har-Even: We are aware of these concerns, which is why we pay special attention in this regard, transparent and to be open. The BNET system RAFAEL has not only been tested and tested to ensure that there is no so-called black box, but we even carried out jointly with customers in several countries, projects for the implementation of customer software and workflows on BNET.
ES & T: Is there in your systems, proprietary software, and how adaptable your systems are to national solutions that could run on proprietary software?
Har-Even: BNET is a true Software Defined Radio (SDR), that it has an open architecture that can accommodate RAFAEL software and customer-defined software, including national solutions, both. In addition BNET based on IP technology to adaptability and integration to make particularly fast and easy as we have put it to customers around the world time and again.
ES & T: SPICE-250 is your new distance weapon for airborne applications. What are the special features of this weapon system, and what are the prospects of your partnership with the German company Diehl Defense in this regard from?
Har-Even: SPICE-250 is indeed the newest member of SPICE family. This is a new generation of precision-guided munitions (Precision Guided Munitions, PGM). SPICE-250 has a range of 100 kilometers and is an autonomous weapon with real-time target positioning function. SPICE-250 uses a common plane interface and a sophisticated smart Quad rack (SQR), which simplifies the effort of integration plane. Each SQR is equipped with four SPICE-250. SPICE-250 has a broadband data link that transmits a real-time video stream from the seeker head to the cockpit and allows Man in the Loop. It therefore offers the unique ability to ensure that the correct target is hit, in addition to the Battle Damage Assessment and the possibility of the mission abort. RAFAEL has a partnership agreement with the German Diehl Defense as a general contractor in Germany.
ES & T: The reconnaissance and targeting systems RecceLite and Litening are the air force already in use in manned aircraft. To what extent they are suitable for UAS applications?
Har-Even: RecceLite is a real-time antenna ISR system that is suitable for UAS applications. The current RecceLite can be integrated on a MALE RPV and in the line-of-sight mode with the current soil analysis systems (GES) are operated. For the NLOS mode SATCOM is required, with the progressive RecceLite system, the XR can be realized. It is necessary to upgrade to the existing GES. Litening is a battle-hardened multispectral airborne target container that is used worldwide. About 1,500 pods have been sold to customers around the world and integrated on more than 20 platforms: Western, Eastern, European and beyond.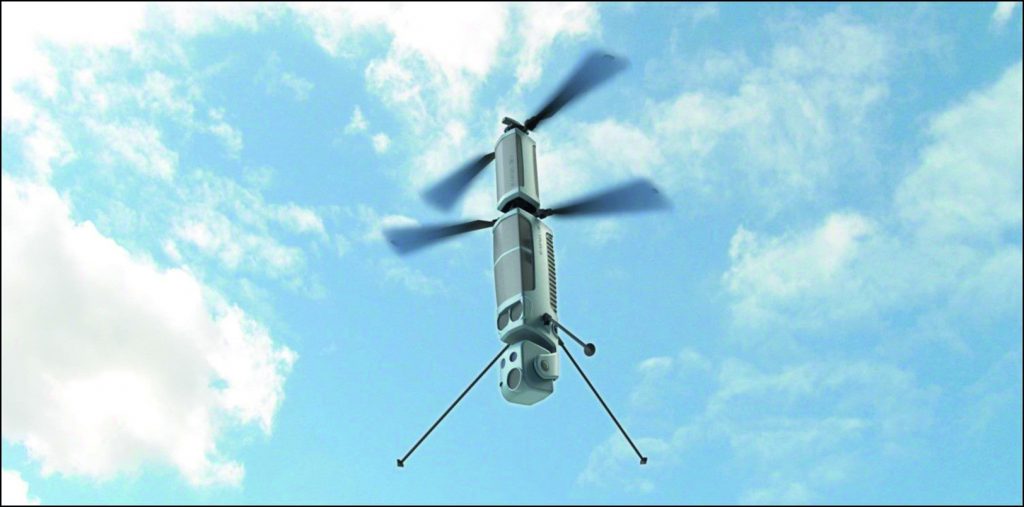 ES & T: What relevance does the Bundeswehr compared to other export customers, and how you see the future development of your export business world?
Har-Even: The Bundeswehr is an advanced western army with a strong role in NATO. On the whole, the Bundeswehr is very international oriented, which additional aspects of the logistics and maintenance entails.
The international partners of Germany and France and the Netherlands make Germany for us even more attractive, as most European armies Germany regarded as an authority in the selection of technology and modern weapons systems, due primarily to the fact that the defense industry in Germany on very advanced research facilities and procedures for evaluating defense technology features.
The upcoming international programs such as MGCS and FCAS are very attractive for us, and we are looking for partnerships with local (German and French) companies to contribute to our capabilities in these great programs.
We see in Germany and in many other countries two major innovations: the digitization and vehicle protection. Therefore, we believe in the combat-proven system Trophy as the right active protection system for the vehicles of the Bundeswehr. Due to these developments, in addition to what we have achieved with our missile family Spike and airborne systems RecceLite and Litening we work out to deepen our business in Germany together with our German partners and expand.
Questions by Peter Boßdorf, Dorothee Frank and Jurgen Hensel.