Under the sober title NITEX (Lower Saxony Counterterrorism Exercise) was held on Thursday, August 22, the premiere of a German security forces comprehensive training to deal with a maritime threat instead.
It involved the water police inspection Oldenburg, the Nordverbund the Spezialeinsatzkommando (SEK) (it includes Lower Saxony, Bremen, Hamburg, Schleswig-Holstein, Mecklenburg-Western Pomerania and Brandenburg), GSG 9, Federal Police, the Port Authority of Lower Saxony and the German Maritime Search and Rescue Service. By the German Navy combat support "Bonn" was a Sea King helicopters and soldiers of the Flotilla 2 involved (if known). The guide was incumbent on the person responsible for such scenarios in the Lower Saxony coast police headquarters Oldenburg. A total of 400 police forces, 29 ships and four helicopters were used.
Bei der Übung #NITEX trainierte die @Polizei_WHV_FRI ein Anschlagsszenario auf See. Die #DeutscheMarine unterstütze das Vorhaben mit dem EGV #BONN pic.twitter.com/ilC3DJ3Nbb

— Deutsche Marine (@deutschemarine) August 22, 2019
The scenario looked a scheduled stop in front of the port facilities in Wilhelmshaven. The hired for the exercise freighter "Cap San Diego", which is usually as a museum ship in Hamburg port was hijacked by terrorists. With the help of the "Bonn" came the special police in the immediate vicinity of the freighter and were launched. SWAT forces occupied the "Cap San Diego" and ensured their access measures for the restoration of security on board. The scene was the Jade fairway.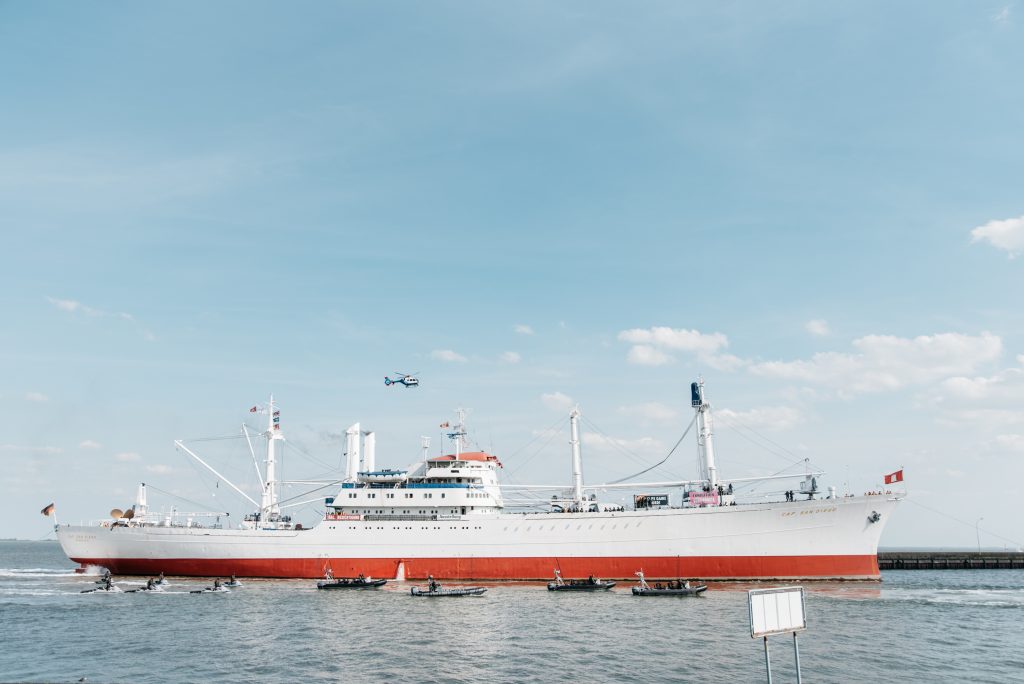 Der Übung zur See ging am Vortag eine Stabsrahmenübung unter Annahme einer terroristischen Gefahrenlage voraus, bei welcher der Einsatz konzeptionell und logistisch vorbereitet wurde. Dabei lag der Fokus insbesondere auf den Genehmigungsabläufen zwischen Polizei und Bundeswehr. Insgesamt, so war zu vernehmen, gingen der Übung zehn Monate Vorbereitungszeit voraus.
Apart from the practiced here use on the high seas, which represents a special challenge even for experienced Special Forces, is the kind of cooperation - the support of the police in dealing with a supposed terrorist threat by the Navy - the first time. Not for the Bundeswehr. In early March 2017, the police forces of several federal states held a joint exercise with the Army, the simulated terrorist attacks in several states was made (GETEX 2017).
Constitutional aspects and training requirements
The Basic Law provides for the use of the Bundeswehr inside only when a natural disaster or an especially grave accident to provide assistance before 35, paragraph 2, sentence 2 of Article. Under a particularly serious accident in this sense "a loss event generally understood by large scale" is in the jurisdiction of the Federal Constitutional Court (BVerfG, judgment of the First Senate of 15 February 2006, 1 BvR 357/05, para. 98). This includes the necessary for effective civil protection in the opinion of the Court broad concept design (according to the case (supra) and interpretation (Federal Constitutional Court, decision of the plenary on 3 July 2012 2 PBvU 1/11, para. 43)) also terrorist attacks.
Derartige Übungen sind erforderlich, um das Zusammenwirken der beteiligten Behörden, Organisationen und Einheiten zu fördern, ohne dass damit gleich die Gefahr droht, die Gewährleistung der inneren Sicherheit zu einer Aufgabe des Militärs zu machen. Ziel von Übungen wie NITEX ist die Überprüfung von Verfahren und Entscheidungsprozessen in einer Situation, in der eine ausschließliche Reaktion mit Polizeikräften auf terroristische Bedrohungen wegen deren Ausmaßes nicht mehr möglich ist. Würde in einem solchen Fall auf den Rückgriff auf Ressourcen der Bundeswehr im verfassungsrechtlich vorgegebenen Rahmen verzichtet, kämen die betroffenen Stellen ihrem Schutzauftrag nicht nach. Insofern dienen die Übungen dazu, Abläufe zu optimieren, die Schnittstellen zu (er)kennen, die Ecken und Kanten geschmeidig zu machen, um für den Ernstfall vorbereitet zu sein und zielgerichtet einschreiten zu können. Schließlich geht es um den Schutz der Bevölkerung, um Leib und Leben der Bürger.
Police first - Marine nevertheless required
This first joint run was, it turned Johann Kühme, president of the Police Directorate Oldenburg, firm, provided much experience through which the use and handling confidence of all parties had been strengthened. He expressly thanked the German Navy.
"A terrorist attack such as that of the present-day scenario has never ruled out despite careful work of the security authorities. More important was this practice to be the best possible for such a scenario prepared and to protect the people. We have successfully tested all relevant systems of security agencies in a very unusual situation today pursued Bonn "," Lower Saxony's Minister of the Interior and Sport, Boris Pistorius, the NITEX of board who said ".
Der Minister betonte "Für die Innere Sicherheit in Niedersachsen ist zuallererst die niedersächsische Polizei zuständig." Gleichwohl habe die Übung auch bestätigt, dass die Polizei bei der Bewältigung einer terroristischen Bedrohungslage im maritimen Bereich unter Umständen sowohl in personeller als auch logistischer Hinsicht auf die Unterstützung der Marine angewiesen sein könnte. "In einem solchen Katastrophenfall würden wir unter den geltenden Voraussetzungen des Grundgesetzes auf jede sinnvolle Unterstützung zurückgreifen, die etwa seitens der Bundeswehr bereitsteht", ergänzte Boris Pistorius.
The need to resort to resources and capabilities of the Navy applies to operations in the coastal area - the only difference is the territorial sea of ​​the territory. In Germany since 1994, the 12-mile limit applies. In accordance with Article 12 of the Convention of the United Nations and the deep-water harbor in the German Bight heard west of Helgoland become part of the territorial sea. GETEX recognize was already where there is need for improvement in the interaction between the security forces and the army, so resulting in a procedure by sea further starting points. Here other scenarios are conceivable. In this respect - more efficient in the sense of national defense - a continuation in the sense of, be prepared 'desirable. Similarly, an uninhibited handling of the deployment of the Bundeswehr inside in these cases.
No acute threat
The Minister pointed out that the exercise has no connection with specific hazard clues. Given the general current threat situation in the Federal Republic one must still be prepared for many scenarios.
Marine wertet die Übung als Erfolg
Der Kommandeur der Einsatzflottille 2, Flottillenadmiral Ralf Kuchler, ließ sich bereits beim Einlaufen positiv zum Verlauf der Übung ein. Er begründete dies mit drei Punkten.
Zum ersten ermöglichte NITEX, Verfahren zu beüben und dabei festzustellen, was bereits leistbar ist, an was zu denken sei und woran für die Zukunft zu arbeiten sei.
Zweitens zeigte sich, so der Admiral, "dass wir einen Großteil – trotz unterschiedlicher Verfahren – sehr schnell reibungslos und effizient gemeinsam umsetzen und lösen konnten".
Schließlich, mit Blick auf die Marine, hätte die Übung "wertvolle Hinweise" geliefert, wie sie sich "in einer subsidiären Funktion" aufzustellen habe, "um Bund / Länder im Falle eines Hilfeersuchens noch besser unterstützen zu können".
Hans Uwe Mergener