The Baltic Sea is the most likely area of ​​operations of the largest and most diverse fleet of the German Navy in the national and Alliance defense. Are we ready for it?
The Baltic Sea was in the decades of the Cold War, the use space for boats, fighter-bombers and land associations of the German Navy. The main task was to deny Seekriegsmitteln the Warsaw Pact use in the Baltic Sea and help protect North American reinforcement forces in the North Atlantic. Starting with the fall of the Wall this task has been neglected as a result. The Baltic Sea was from the early 1990s as a "sea of ​​peace" the unifying element to the new NATO partners in the Baltic States and Poland, maneuver area with our EU partners Sweden and Finland and inexhaustible work for military waste disposal.
But since 2014, the Baltic Sea is back in the military consciousness. And this, in which a conflict with a Russian aggressor again appears as a central operations room of national and alliance defense likely. Only the signs are reversed this time: During the Cold War an invasion of Warsaw Pact troops should be prevented via the Baltic Sea. Now is the Baltic Sea as an indispensable transport for a robust gain of the Baltic allies as to keep open also for securing the trade routes, data and energy flows of the Baltic Sea.
The prerequisites for this task have fundamentally improved at first glance. The majority of the coastline of the Baltic Sea is in the hands of the Alliance or of Sweden and Finland. These relate now a clear position towards Russia. You are looking through different cooperation procedures with close cooperation with the Baltic Sea countries of the NATO alliance. Only the Kaliningrad region and the eastern tip of the Gulf of Finland with manageable coastlines are controlled by Russia. The naval ports of Kronstadt / Saint Petersburg and Baltisk home to a clear Baltic Fleet, which should confront the NATO navies really confident with its northern European partners. Nevertheless, estimates hold of the Baltic Sea as Killbox. Large areas around the enclave of Kaliningrad are referred to as A2AD zone (Anti access, area denial), can prevent access to the eastern Baltic Sea in the systems and of land and from the air each ship. This extremely pessimistic assessment is based on tangible military developments in recent years, including the any strategy affecting economic, infrastructural and even demographic context factors need to be supplemented.
Changes in the operating room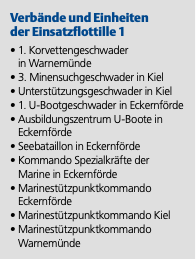 Despite the significant increase friendly coastlines the operational freedom in the Baltic Sea has not become larger. The main reason is the emergence of a close-knit military and civilian sensor network. Modern satellite monitoring, and military and civilian sensors make it possible to obtain a real-time picture of the situation in much of the Baltic Sea. This makes an undiscovered driving on the Baltic practically impossible. Passive reconnaissance capabilities in the field of signal detected Enlightenment, the evaluation of all civilian communications networks and the possibilities of mass data analysis using AI by computerized analysis complement the data gained active. They allow a potential military opponent to take the initiative without preparatory education. modern in connection with the permanent availability, very fast and far-reaching anti-ship missiles that can be fired from land, sea or aircraft from, creates an operating environment in which an aggressor can go back a quasi from the state for military strikes. A substantial period of time to prepare for such an attack would not be given.
Own control of the reactivity and the Baltic sea area is possible only by its own continuous detailed reconnaissance, as well as the command of the entire coastline in sufficient depth to land, at sea and in the air. This securing of the Baltic Sea is an alliance joint effort, in the German navy plays an important role. Success, however, is only joint forces to gain on land and in the air. This situation is not new in principle for the operating room Baltic Sea. Even during the Cold War was expected in this sea area short and hard punch exchanges with more tactical, because operational refinements. So the situation today is a continuation of long-known developments that ultimately the operational clearance own forces seem quite limiting and prefer to support the initiative disproportionate.
Significant for the current situation is also the fast pace of change and the complexity of the military environment. The role of the pacemaker for innovation is long gone from the state or the military to the needs of individual consumption in a globalized society and industry with us. With increasing cadence technological developments make great leaps that are rarely driven militarily. Frequently, however, these developments have significant civilian military implications. This includes new positioning and communication processes above and below water, new location image exchange processes or applications of unmanned systems. Originally conceived civil, get it both as agile ammunition, as carrier platforms, as well as reconnaissance systems are used. Accordingly, new technical reconnaissance and Jamming almost a month apparently and force permanently to think about their own abilities.
possible scenarios
If you try to sign under these scenarios in the Baltic Sea to imagine the open military conflict would initially the most painful, but ultimately solvable variant. The ability to self-defense of the floating units, the action against targets in the air, on land and on the water are at least rudimentary. Opportunities for practicing high-intensity battle in bandage and under restricted conditions of communication, however, are limited but today of units due to ongoing use of binding and low numbers. Capabilities of the Flotilla 1 (EF 1) must have their expertise make significant contributions to such alliance confrontation. Together with Army and Air Force the approaching NATO and Partner forces with key skills such as reconnaissance, submarines, mine countermeasures units or special forces are supported. In particular, the operation of the bases in the Baltic region would be in such a scenario a core capability that extends the use value and the sustainment of the Alliance's navies significantly.
While navigating the eastern and central Baltic initially due to massive missile and probably mine threat was initially restricted the use of space could certainly be retaken by the Alliance navies in tandem with land and air forces.
Hybrid scenarios would, however, significantly more likely been due to the strategic balance of power and the cost of conflict. Even today there are attempts to undermine the territorial integrity of our partners in the Baltic region through media campaigns. Secessionist movements of minorities are promoted, the coherence and the decision will of NATO and EU tested in parallel. More Reassurance measures by naval forces or reinforcements NATO partner countries in response to this process are disturbed by events not allocated through the use of mines, long-range torpedoes, drones, disorders of the electromagnetic spectrum, etc. below and above water. It can set up a latent threat, maritime transport will be disrupted or diverted to need without exceeding the threshold for the official shooting war. Masses of missiles, drones swarms or pinhole-like use of aircraft threaten the use of surface forces of NATO to the Baltic Sea. In particular, high-value units, such as troop carriers or large surface vessels were to protect only with tremendous effort against the latent threat and exposed to a probable destruction in case of escalation anyway.
The Western alliance is so exposed to the dilemma of either act escalatory at an early critical stage with a massive troop contingent, or take the risk of losing unprotected forces without forcing the enemy to cross the stage to the shooting war.
Answers to the scenarios
Status quo
In this situation, to be assertive, is both building and maintaining a comprehensive situation picture above and under water and on land ahead, and the ability to operate even below the threshold escalation in the sea area. In case of escalation, it is to be viable or severely limited life, to assist with the violent conquest of space reconnaissance, combat and support posts. For these tasks, the EF 1 is generally prepared but not yet geared for the future.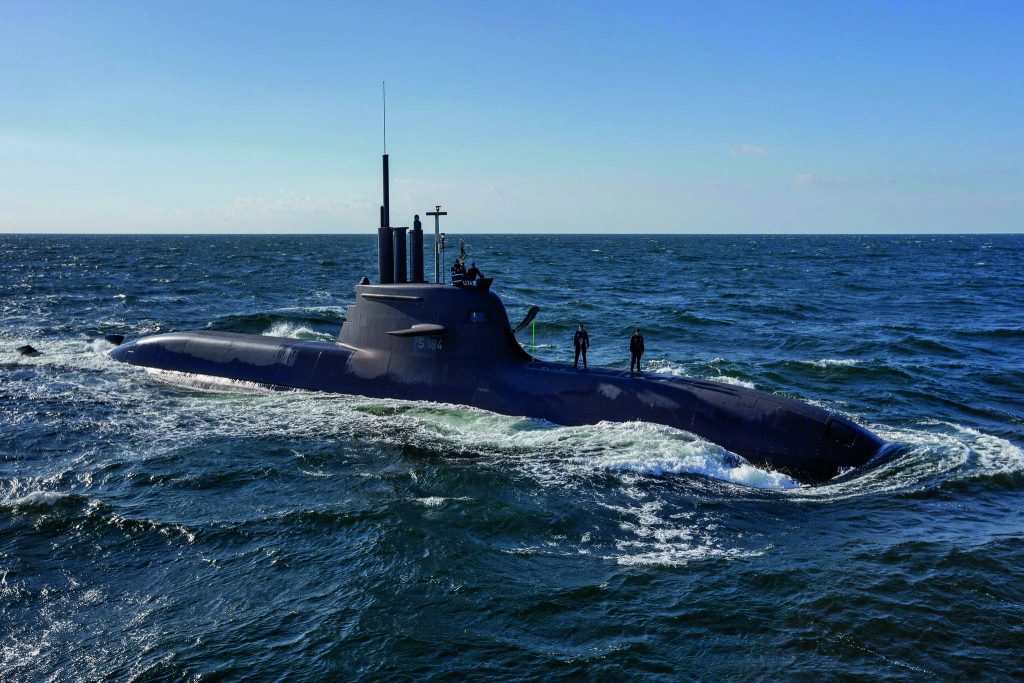 Die gesamte Flottille hat Expertise im Ostseeraum. Insbesondere Flottendienstboote, U-Boote Spezialkräfte und Minenkampfeinheiten tragen zum Aufbau und der Verdichtung eines permanenten Lagebildes bei. Sie sind temporär und lokal in der Lage, die Veränderung der Bedrohungslage zu detektieren und Bedrohungen einem Verursacher zuzuweisen. Allerdings fehlt die Fähigkeit, dies dauerhaft und flächendeckend zu tun, um ein echtes dimensionsgemeinsames Informationsnetzwerk aufzubauen. Dieses muss Angriffe eines Aggressors eindeutig zuordenbar machen und ihn somit zwingen, oberhalb der Eskalationsschwelle tätig zu werden, um seine Ziele zu erreichen. Die Überlebensfähigkeit der Einheiten ist bei den größeren seegehenden Systemen (U-Boot, Korvette, FD-Boot, Tender) materiell eingeschränkt. Die geringe Stückzahl dürfte zu einer zügigen Abnutzung der Fähigkeiten führen. Als geeignete Waffen stehen den seegehenden Einheiten die landzielfähigen Seezielflugkörper und 76-mm-Geschütze der Korvetten, Schwergewichtstorpedos der U-Boote gegen große Über- und Unterwasserziele sowie Marineleichtgeschütze, RAM und Fliegerfäuste zur Selbstverteidigung zur Verfügung. Die Möglichkeiten, sich im Krisenfall gegen "herrenlose" Drohnen zur Wehr zu setzen, die erheblichen Reichweitenvorteile gegnerischer Waffensysteme auszugleichen oder seinerseits eine ernst zu nehmende Bedrohung für die in allen Dimensionen operierenden Einheiten des Gegners darzustellen, sind gering. Hinzu kommt, dass größtenteils veraltete Technik und personalintensive Plattformen Effizienz und Effektivität des Einsatzes einschränken und die Verfügbarkeit auch im Frieden regelmäßig infrage gestellt ist.
Except for the Corvette almost all sea-going major weapons systems have EF1 latest by 2030 reached their useful life end, or at least operationally obsolete. It is therefore important to look to the future and consider opportunities for further development in the eye. Protecting the existential bases also presents a challenge, not extensive for the provision is made. In the infantry associations the material equipment from a qualitative point of view is better, but there is some quantitatively a greater need.
Identified development needs
The units of the EF 1 can be used in principle worldwide. While the main trends as permanent sensor cover, high reach and agility of weapons systems, diversification of threats and actors etc. global scope have the situation in the Baltic Sea by the narrow geography and a militarily potent neighborhood is marked. The recognized, exemplary development needs concentrates on the specific needs of the Baltic Sea.
guide
The challenge of leadership is above the tactical level of EF1. The future Baltic Maritime Component Commands (BMCC) will help significantly improve the situation. Technical solutions for communication and continuous situational awareness in real time exchanges in time of peace are alliance jointly develop and harden further. It is expected that the electromagnetic spectrum will be highly competitive in the area of ​​operations. Classic, optical communication method as well as new operational policies, procedures, tactics and preplanned responses in the digital and cyber context get immense importance. We need to get better. These steps are initiated.
enlightenment
In addition to being regenerated fleet service boats education is an ongoing task for all units of the EF1. The character described the operational area Baltic Sea and the known trends in coverage, automation and data processing suggest the establishment of a permanent information network in the Baltic region, which consists of a mix of mobile and fixed, manned and unmanned sensors should be. This should and can and produces under water and are centrally compacted nowadays. The communication in such a network would be to harden against interference or a redundant. Mobile manned platforms, as necessary would be as small as possible and personal alarms interpreted beschaff- to absorb losses in order to complicate enemy reconnaissance and larger amounts of platforms and make operable. Skills would be realized in focus through software solutions, unmanned subsystems or modules to be able to contribute to the permanent need for modernization bill.
effect
In the area of ​​effect current challenges are addressed. The assertiveness classic missiles and torpedoes is set against the backdrop of ever-improving defense systems in question. The threat of low-cost systems is real. Armed small drones, which in large quantities omni
direktional angreifen, machen koordiniert mit einer Störung des elektromagnetischen Spektrums die Verteidigung unmöglich oder überfordern heutige Systeme. Wirksame Antworten hierauf sind zu entwickeln. Erste Erprobungen von Wirklasern können hier eine Richtung weisen. Billige Antworten auf billige Bedrohungen tun aber not, um in einem Wettlauf mit einem innovativen Gegner erfolgreich zu sein. Die in der Landzielfähigkeit des RBS15 vorhandene Befähigung ist auszubauen und weiterzuentwickeln und nach Möglichkeit von der kostbaren und schwer zu schützenden Plattform Korvette zu trennen. Um den Einsatz konventionellerer Angriffssysteme in einem Zielgebiet vorzubereiten, sind hohe Geschwindigkeiten und anspruchsvolle Flugprofile zum Überwinden heutiger Flugkörperabwehrsysteme eine Grundvoraussetzung. Gegen Überwasserziele muss über eigene Drohnenschwärme über und unter Wasser oder über weitreichende Projektile nachgedacht werden. Die Fähigkeit zum Mineneinsatz muss reanimiert und ausgebaut werden. Solche Systeme sind einfach weiterzuentwickeln und können, intelligent programmiert, einen wesentlichen Beitrag zur Kontrolle der Ostsee leisten. Unterwasser sind die Mittel der Zukunft einfache Wirkmittel wie abstandsfähige Wasserbomben gegen Drohnen und U-Boote, ferngelenkte bzw. autonome Detektions- und Bekämpfungssysteme gegen Minen und ortsfeste Sensoren in Weiterentwicklung bewährter Systeme. Der Einsatz solcher Systeme im Mix von Plattformen an Land, in der Luft und auf See ist in anderen Regionen der Welt State of the Art und in Verbindung mit dem beschriebenen Aufklärungsnetzwerk notwendig. Vor dem Hintergrund der vorhandenen Torpedoabwehrfähigkeiten ist zu überlegen, inwieweit klassische Torpedos zu Plattformen von Aufklärungs- oder Wirkmitteln weiterentwickelt werden können und die Bekämpfung von Überwasserzielen und U-Booten mittels durchsetzungsfähigerer Submunition erfolgen kann. Der Flugkörper IDAS ist mehr als überfällig und könnte in jedem Fall eine sinnvolle Ergänzung des Aufklärungs- und Wirkpotenzials von U-Booten darstellen.
Support
The performance of the bases would be in case of conflict a key to the success of the alliance. From supporting the combat units of our allies over the handling of troops up to the base on the shipment of autonomous sensors and long-range action means they are enablers and force multiplier at the same time. Possible autonomous bases play a central role in the staying power of NATO in well-developed protection. reduce automated Flugkörperabwehr- and Harbor Protection capabilities and infrastructure hardening of the surrounding infrastructure considerable disturbances. The transport of special forces and small groups of Marines need with small fast boats and will be possible in the case of special forces with underwater craft irrespective of larger units over long distances to make manageable at this difficult combatted and losses. The Tender as a pure support and guidance platform have in such an intense threat environment certainly no future. They would be designed but in more distant and less competitive areas in connection with subsystems of reconnaissance and particularly valuable assets and may accordingly as a multifunction platform with high Sea endurance.
Summary
The conclusions drawn read like an endless wish list of technical solutions. They are not exhaustive and overhauled at the time in which you read them may once again. but they serve to illustrate an important trend. Long ranges and separation of sensors and effectors, networking and diversification of action throughout, hybrid spectrum have shifted the emphasis from a few battle-worthy platforms to numerous, networked, often autonomous or remote-controlled systems. Large numbers, modern but affordable technology with fast innovation cycles determine the business.
Die wirklichen Herausforderungen sind nur bedingt technisch, sondern in erster Linie intellektuell, kulturell und gesellschaftlich. Den Dschungel der Informationen zu durchdringen, um relevante Informationen für die eigene Verteidigungsfähigkeit herauszufiltern, ist die eigentliche Herkulesaufgabe. Aktuelle Entwicklungen zu verfolgen, ihre Auswirkungen auf die organisierte Gewaltanwendung zu erfassen, die Relevanz nüchtern einzuschätzen und Reaktionsmöglichkeiten zu ersinnen, ist die zentrale Aufgabe von Streitkräften. Expertise im Raum und in der Natur des Krieges sind die Grundvoraussetzungen, Lernbereitschaft und tabulose Analysefähigkeit sind die erforderlichen Eigenschaften, um Veränderungen zu gestalten. Neue Innovationsfähigkeit muss den aus der Zeit gefallenen Rüstungsprozessen und der Rüstungsindustrie eingehaucht werden. Das muss die Gesellschaft wollen. Unser Kapital sind junge, kluge Köpfe, leidenschaftliche Soldaten und professionelle Seeleute, die neue Prozesse, Partner und Ideen einbringen und umsetzen wollen, um unser Rüstzeug bedrohungsgerecht weiterzuentwickeln. Technologien gibt es, der Bedarf ist identifiziert, sie müssen teils aber "on the job" nutzbar gemacht werden, heute und nicht in 15+ Jahren. Dafür ist die weitere Zukunft zu komplex und ungewiss. Die Ostsee ist zu klein, um diverse Innovationszyklen zu verschlafen. Denn die heute schon verfügbaren Möglichkeiten, um sie als Einsatzraum zu beherrschen, werden von anderen Seiten heute schon genutzt.
Author: Captain z S Richard Kesten as chief of staff Flotilla first