Das niederländische Beschaffungsamt für Rüstungsgüter (Defensie Materieel Organisatie – DMO) beauftragte den US Helmhersteller Revision Military Anfang August mit der Fertigung und Lieferung von 48.800 Exemplaren des neuen Batlskin Viper P6N Gefechtshelmes der niederländischen Streitkräfte.
Zeitgleich mit dem Liefervertrag wurde ein Rahmenvertrag zur Wartung des Helmes über einen Zeitraum von 15 Jahren abgeschlossen. Über 55.000 Helmbezüge in den neuen niederländischen Tarnmustern "Netherlands Fractal Pattern" Green (Grün), Tan und Weiß sind im Lieferumfang mitenthalten.
The new Dutch camouflage pattern "Netherlands Fractal Pattern" will be available in several versions:
NFP-Green (pictured) for wooded and urban areas in Western and Eastern Europe,
NFP-Tan for arid areas such as deserts, steppes and savannas,
NFP Navy for on-board personnel of the Dutch Navy is still in development,
The NRP-Arctic is also considered as a winter camouflage.
"The Revision Military helmet was best received in the the tests." According to DMO communication, the revision helmet recieved "highestrating by users in the test group". In comparison to the helmet currently in use, the new helmet is characterized by a lower weight, better protection, fit and comfort.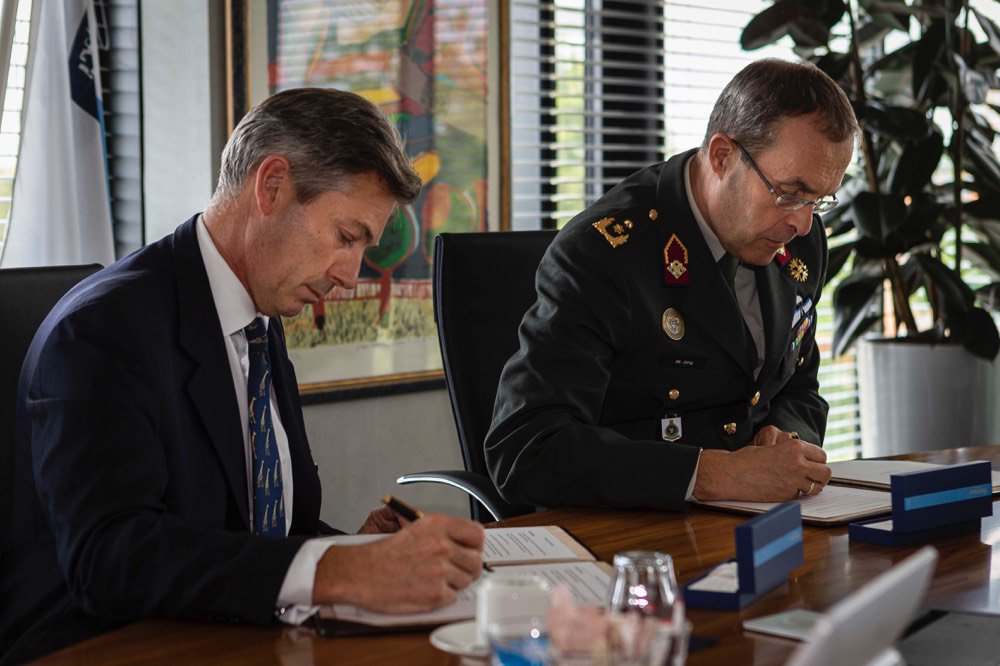 Delivery of the helmets will begin in 2019 with a small series. The issue of new helmets to the troops will begin in 2020 and should be completed 2022.
The procurement of the new helmet system is part of the project DOKS (Defensie Operationeel Kleding Systeem). The DOKS projectis intended to replace the current combat clothing system in the Netherlands (introduced in the early 1990s).
In mid-2016, the Netherlands decided to equip the armed forces with a modern personal protection system. Implementation started in 2017. Following an increase in the defense budget, it was decided in 2018 to extand the project, which was initially intended only for parts of the armed forces, to the entire armed forces. DOKS is intended for all Dutch soldiers from all branches of the armed forces. A total of about 40.000 to 45.000 soldiers of the navy, the army, the air force and the military police are to be equipped with the new combat clothing system and combat helmet. The military police will receive the helmet in a black version.
Waldemar Geiger