World premiere of the KF51 Panther medium tank
Gerhard Heiming
Auf der Rüstungsmesse Eurosatory 2022 in Paris hat Rheinmetall in einer Weltpremiere den mittleren Kampfpanzer Panther KF51 dem Fachpublikum erstmals öffentlich präsentiert. Damit baut Rheinmetall seine Familie von Kettenfahrzeugen (KF) weiter aus, die 2016 mit den Schützenpanzern Lynx KF 31 und KF41 gestartet worden ist und mit dem Lynx KF41 einen ersten Exporterfolg erzielt hat.
Der Panther KF51 ist den Angaben von Rheinmetall zufolge von Grund auf neu konzipiert worden. Kennzeichnendes Merkmal ist das Future Gun System (FGS) mit einer 130 mm/L52-Glattrohr-Bordkanone und einem vollautomatischen Munitionshandhabungssystem (Autoloader) in einem neu konstruierten modernen Gefechtsturm.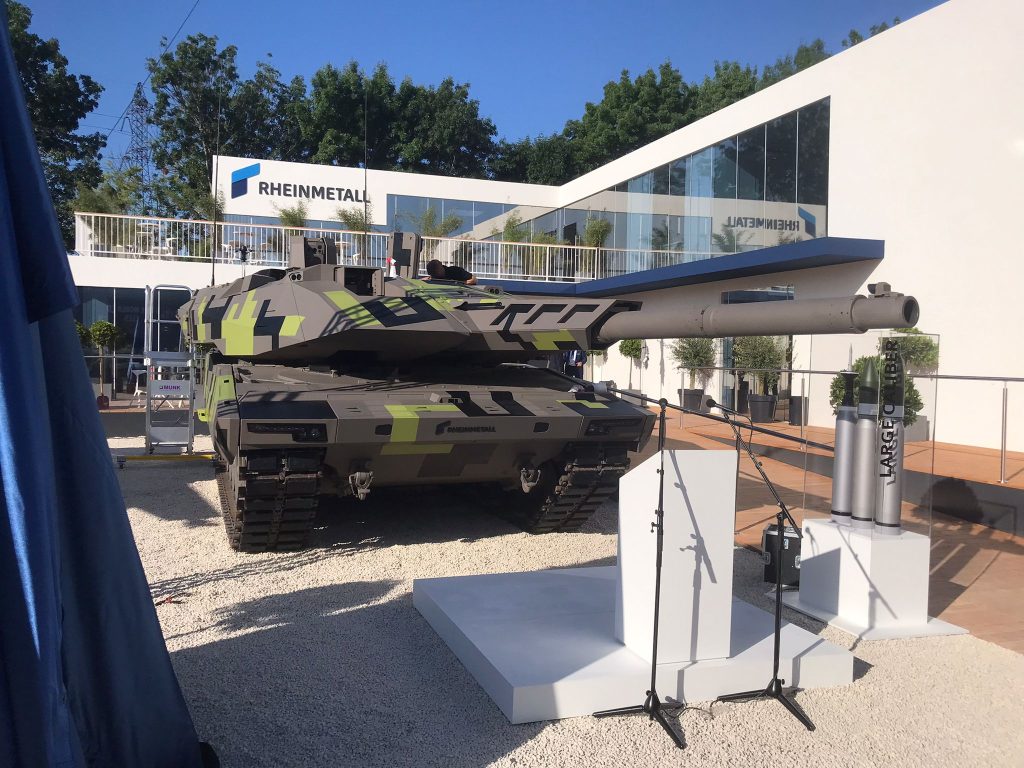 Nach Aussage von Rheinmetall stehen für das FGS Wuchtmunition (KE) und programmierbare Sprengmunition (mit Luftsprengpunkt) sowie Übungsmunition zur Verfügung. Im Lader werden 20 Schuss mitgeführt, im Panzer weitere zehn. Daraus ergebe sich, so Rheinmetall, eine "überlegene Feuerkraft gegen alle gegenwärtigen und absehbaren mechanisierten Ziele". Gegenüber den heutigen 120mm-Systemen liefere das FGS eine um 50 Prozent höhere Wirkung bei gleichzeitig signifikanter Reichweitensteigerung.
Main features of the Panther KF51 at a glance
– 130mm smoothbore gun
– coaxial machine gun, weapon station, launcher for missiles
– Container for UAV
– Crew: commander, gunner, driver, optional systems specialist/command personnel
– digital, cyber-hardened NGVA
– active, reactive and passive protection
- Day and night vision observation and aiming devices
– Near-field all-round observation under hatch (Look through armour)
– Operating weight under 59 tons
– Diesel engine with 1,100 kW, 5,000 Nm
Zur Bewaffnung gehören ein 12,7-mm-Koaxial-Maschinengewehr und optional fernbedienbare Waffenstationen sowie Starter für Loitering-Munition, Raketen und unbemannte Fluggeräte. Dies führe zu hoher Flexibilität bei der Nahbereichsverteidigung und der Drohnenabwehr, schreibt Rheinmetall. Der in Paris ausgestellte Kampfpanzer ist mit einer leichten Waffenstation Natter ausgestattet, die mit einem 7,62-mm-Maschinengewehr bewaffnet ist.
Herz des voll digitalisierten Panzers ist ein Bussystem nach Standard NATO Generic Vehicle Architecture (NGVA) zur nahtlosen Integration von Sensoren und Effektoren sowohl innerhalb der Plattform als auch im Verbund mit anderen Systemen. Damit haben alle Besatzungsmitglieder Zugriff auf Daten der eingesetzten Komponenten wie Sensoren, Kommunikation, Waffen, Triebwerk sowie auf das Feuerleitsystem für ein ausgeprägtes Situationsbewusstsein einerseits und die Führung der Besatzung und des Kampfpanzers im Gefecht, insbesondere im Feuerkampf. Diese Architektur ermögliche sowohl eine Hunter-Killer- als auch eine Killer-Killer-Funktion und damit verzugslose Zielbekämpfung – perspektivisch auch unterstützt durch Künstliche Intelligenz (KI), schreibt Rheinmetall.
Der Panther KF51 ist für eine dreiköpfige Besatzung ausgelegt. Kommandant und Richtschütze finden ihren Platz an gewohnter Stelle hintereinander rechts im Turm. Der Fahrer sitzt mittig in der Wanne. Links hinter ihm ist Platz für einen optionalen vierten Bediener, z.B. einen Subsystemspezialisten oder Führungspersonal. Jeder Bedienerplatz kann Aufgaben und Rollen von anderen übernehmen, wobei die Funktionalität voll erhalten bleibt. Da die Steuerung des Turms und der Waffen auch von den Bedienerplätzen im Fahrgestell erfolgen kann, sind nach Angabe von Rheinmetall perspektivisch auch Varianten des KF51 Panther mit unbemannten Türmen oder komplett fernbedienbare Fahrzeuge geplant.
Für Aufklärung und Feuerleitung stehen der Besatzung die Rundumblick-Optik SEOSS bzw. das Hauptkampfvisier EMES mit Tag- und Nachtkanal für unabhängiges Beobachten und Wirken zur Verfügung mit stabilisierter digitaler TV- und IR-Optik mit integriertem Laserentfernungsmesser.
Displays ermöglichen der Besatzung, die gesamte Umgebung des Panzers jederzeit zu beobachten, ohne Luken öffnen zu müssen (Look through armour). Für ein erweitertes Situationsbewusstsein im Orts- und Nächstbereich können integrierte luftgestützte Aufklärungssysteme genutzt werden.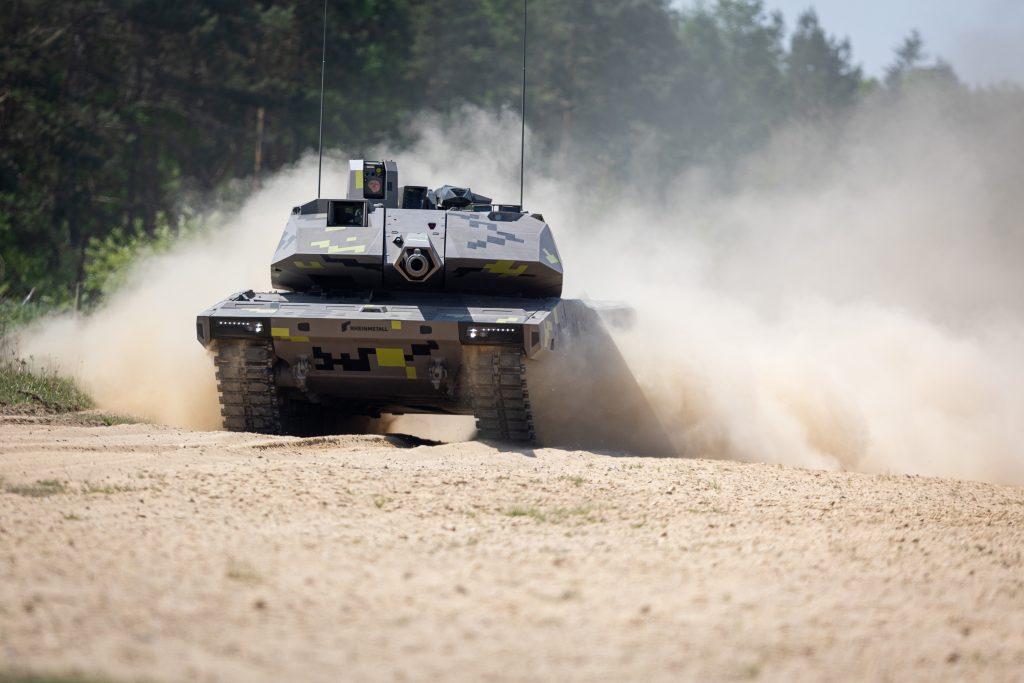 Im voll integrierten gewichtsoptimierten Schutzkonzept kommen aktive, reaktive und passive Schutztechnologien zum Einsatz. Über die Schutzelemente vorn in der Wanne aus Panzerstahl machte Rheinmetall keine Angaben. Der aktive Schutz mit StrikeShield-Elementen zum Schutz vor KE-Bedrohungen und Panzerabwehrwaffen erhöht das Schutzniveau ohne Beeinträchtigung des Systemgewichts. Ein Top Attack Protection System (TAPS) wehrt Bedrohungen von oben ab. Das Schnellnebelschutzsystem ROSY schützt vor feindlicher Sicht. Die offene, digitale und gegen Cyberbedrohungen gehärtete NGVA-Architektur ermöglicht die Integration von Sensoren zur Detektion von Abschusssignaturen.
In der neu konstruierten Wanne trifft man auf alte Bekannte: Einen Antriebsstrang mit 1.100 kW-Dieselmotor, das hydromechanisches Schalt-, Wende- und Lenkgetriebe HSWL-354 sowie das Laufwerk mit Laufrollen, Federung und Ketten wurden vom Leopard 2 übernommen. Mit dem Gefechtsgewicht von 59 Tonnen – bei höherer Systemleistung als heutige Spitzenpanzer – und reduzierter Silhouette bietet der Panther KF51 ein deutliches Plus bei taktischer und strategischer Mobilität.
Mit dem Neuansatz in Konstruktion und Systemdesign ist ein moderner Kampfpanzer entstanden, der dank Digitalisierung und Modularisierung hohes Aufwuchspotenzial bieten dürfte und laut Hersteller offen ist für Aktualisierungen mit bedrohungsgerechten Fähigkeiten und Funktionen. Rheinmetall sieht den Panther KF51 als ersten Vertreter einer neuen Familie von Gefechtsfahrzeugen und erwartet weitere Innovationen für einen umweltfreundlicheren Einsatz in Friedenszeiten und zur weiteren Optimierung von Automatisierung und Effektivität.
Der Panther KF51 enthält eine Reihe Merkmale, die mit dem zukünftigen Main Grund Combat System (MGCS) realisiert werden sollen. Hierzu gehören vor allem das leistungsgesteigerte Future Gun System mit der 130-mm-Glatrohrkanone, die Ausstattung mit sekundären Waffen, die Möglichkeit zum Einsatz und Steuerung unbemannter Systeme sowie die Digitalisierung auf Basis der NGVA. Er spiegelt den Leistungsstand moderner Systemkomponenten, ausgerichtet auf aktuelle und zukünftige Bedrohungen wider.
Gerhard Heiming