On February 12th, the first of the three new Multi Mission Inshore Patrol Vessels (MMIPV) of the South African Navy (SAN) was christened. According to information from the shipyard, Damen Shipyards Cape Town (DSCT), the 62 x 11 meter ship is the first Sea Ax ship to operate in South Africa. Sea Ax is a design patented by Damen, which is characterized by a straight, ax-shaped bow. The patrol boats, displacing 1,000 tons, replace the previously much smaller speed boats, which were based on the design of the Israeli Saar 4 class. SAS "Galeshewe" (P 1567) was the first of the three units still in operation at the time to be decommissioned in November of last year.
The armament of the Biro units should consist of a 20-mm Super Sea Rogue gun from Reutech. Earlier information provided Denel's 20mm double-barreled GI-2 gun. The boats will each have a seven and a nine meter long rigid inflatable boat. The aft deck offers additional space for a 20-foot container. In addition to a 40-person crew, the patrol units can accommodate up to 22 additional people.
Das Projekt Biro sah ursprünglich drei Küsten- und drei bis sechs Offshore-Patrouillenschiffe (OPV) vor. Aufgrund fehlender Haushaltsmittel wurde das Programm auf drei Multi Mission Inshore Patrol Vessels reduziert. Armscor, die südafrikanische Beschaffungsbehörde, vergab im Januar 2018 den Auftrag an Damen Shipyards Cape Town, einer Tochter der niederländischen Werftengruppe Damen. Trotz anfänglicher Skepsis angesichts der Covid-19-Situation blieb es bisher beim geplanten Zeitplan. Das erste Boot (Hullnumber P 1571) soll noch in diesem Jahr in Dienst gestellt werden. Im Abstand von je einem Jahr sollen die Schwesterschiffe folgen. Das 1,5-Milliarden-Rand-Projekt (91 Millionen Euro) wurde nach der Entscheidung für ein strategisches Verteidigungspaket (u.a. vier MEKO-Fregatten, drei Uboote) nach einigen Anläufen auf den Weg gebracht. Für Südafrika besteht anerkannt ein Bedarf an kleineren Einheiten, zum Teil zur Entlastung der größeren, zum anderen Teil als Ersatz für veraltete Einheiten. Die Boote werden gebraucht für ein kosteneffektives und zielgerichtetes Vorgehen gegen Kriminalität in den ausgedehnten Küstengewässern (2.500 km Küstenlinie!) und der erweiterten maritimen Wirtschaftszone Südafrikas, in der Schmuggel und illegale Fischerei an der Tagesordnung sind. Daher spielen konzeptionell in Südafrika immer die möglichen Auswirkungen auf die Sicherheit des Seeverkehrs in der südafrikanischen Entwicklungsgemeinschaft (SADC), im übrigen Afrika und darüber hinaus eine Rolle.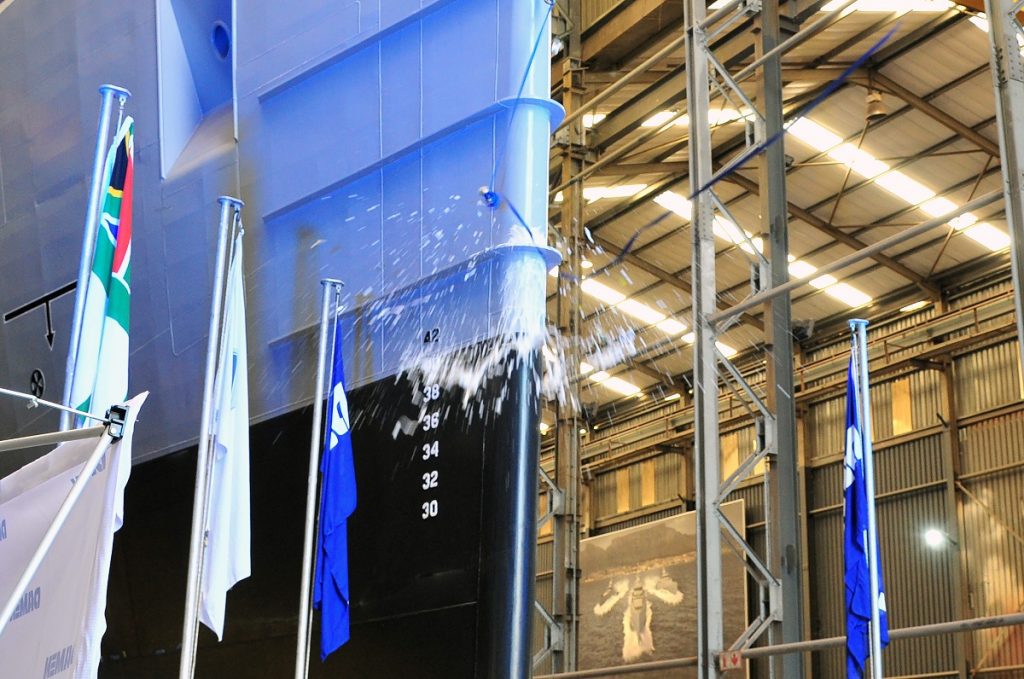 Unfortunately, the name of the first unit was not mentioned in the publication. Earlier reports suggest that post-apartheid ministerial names were up for discussion. According to this, P 1571 could have been named as the first boat after Mosiuoa Lekota. He was South African Minister of Defense from 1999 to 2008 and is chairman of the Congress of the people.
According to its own information, Damen undertakes not only to deliver the units, but also to fulfill all tasks of the ship's operation during the entire life cycle. As a contribution to the development and maintenance of a sustainable maritime industry, according to Damen, over 300 direct and over 1,000 indirect jobs have been created as part of the Biro project. The creation of jobs and training opportunities as well as participation in technology play a major role in South Africa when it comes to awarding armaments projects.
Hans Uwe Mergener