The development of a new fully or partially autonomous combat vehicle is entering the next stage. After Milrem Robotics made the development public a good six months ago, the Type-X (Robot Combat Vehicle, RCV) robotic combat vehicle has now made its way from the drawing board to the test site. Initial mobility tests have confirmed the vehicle concept. Now the optimization of the installed components begins. Of the eight variants (combat, anti-aircraft and artillery radar, anti-aircraft, anti-tank, mortar, transport and salvage), the development of the combat vehicle currently comes first.
The Type-X is a modular platform that is intended to complement the capabilities of manned battle or armored personnel carriers. For fully or partially autonomous operation, the Type-X has been given a hybrid drive which, in combination with a battery, fuel tank, electric and diesel motor, enables virtually silent driving. The rubber chain also contributes to this. The range is given as approx. 600 km.
A 50 mm or 30 mm cannon, supplemented by a coaxial machine gun, is provided as armament. In addition, the tower carries multiple rocket launchers on both sides as well as throwing cups for smoke and high explosive shells. The equipment is exemplary and can be adapted to the needs of future users.
The Type-X can be deployed from the air with a 30 mm cannon. With a combat weight of 12 tons, the robot vehicle can be transported in transport aircraft such as the Lockheed Martin C-130J or Embraer KC-390. The Airbus A400M can transport two Type-Xs, the Boeing C-17 Globemaster even five.
Various degrees of autonomy can be selected for driving the vehicle. In addition to the follow-up function, in which the vehicle follows a vehicle ahead, waypoint navigation and remote control (man-in-the-loop) are the most important processes. A new type of obstacle detection with artificial intelligence enables higher speeds for remote-controlled operations in the field.
This means that the Type-X can take on the most dangerous tasks and positions in combat operations without exposing people to any danger. The low combat weight of only twelve tons enables bridges, paths and sections of terrain that are not very stable to be driven on. The vehicle is difficult to explain because of its low height and the silent electric drive via rubber chains.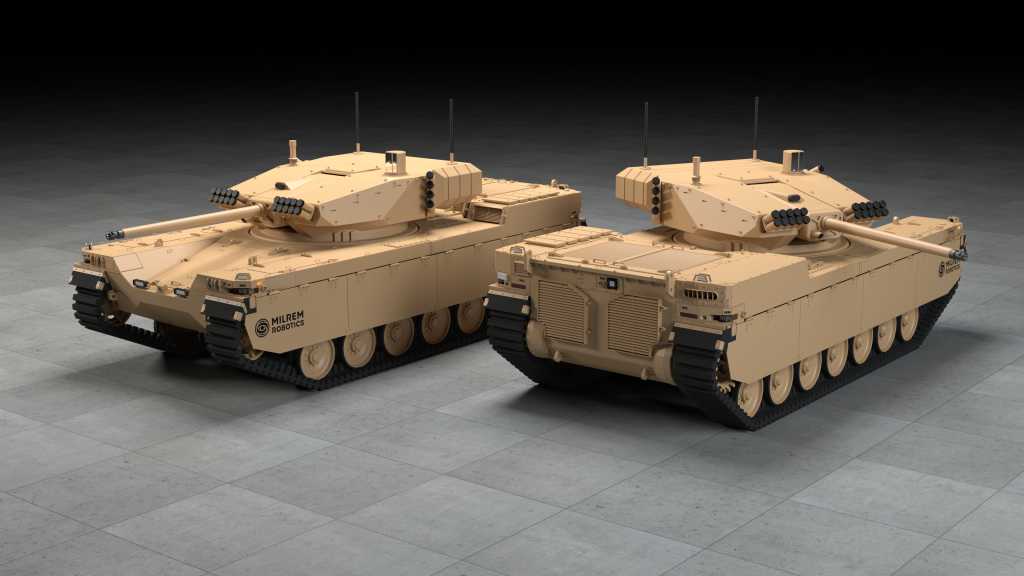 For reliability, Milrem has integrated a condition monitoring system for the components into the Type-X, which enables predictive maintenance to achieve long, uninterrupted operating times. By using quickly exchangeable assemblies (line replacement units), downtimes for repairs are short and life cycle costs are low.
The development of the Type-X with the support of the armed forces of an unspecified country should lead to a market-ready product by mid-2023.
Gerhard Heiming