Mit dem Ergebnis der amerikanischen Präsidentschaftswahl stellt sich zwischen Evere, dem Sitz des NATO-Hauptquartiers, und dem Schumann-Platz, um den sich die EU-Gebäude des Rates und der Kommission gruppieren, eine selten wahrnehmbare Synergie ein. Sie geht so weit, dass NATO-Generalsekretär Jens Stoltenberg an einer Sitzung der EU-Kommission teilgenommen hat. Das wurde von beiden Seiten als historisch bezeichnet. Es ging vor allem um die Synchronisierung des Neuansatzes der transatlantischen Partnerschaft. Die EU-Kommission hatte eine "EU-US-Agenda für den globalen Wandel" vorgelegt, die den EU-Gipfel vom 11./12. Dezember widerspruchslos passierte. Diese Agenda sieht bei der gemeinsamen Zusammenarbeit für eine sicherere, demokratischere und wohlhabendere Welt einen "Dialog zwischen der EU und den USA über Sicherheit und Verteidigung" vor. Es ist klar, dass dies die NATO betreffen muss. Diese wiederum hat bei ihrem Außenministertreffen am 1./2. Dezember vereinbart, einen NATO-Gipfel in der ersten Hälfte 2021 zu planen – nicht nur als Geste gegenüber dem neuen Residenten des Weißen Hauses in Washington. Aus dessen Umfeld wurde schon angedeutet, seine erste Auslandsreise führe Joe Biden ins NATO-Hauptquartier nach Brüssel. Formal geht es um den Startschuss für die Erarbeitung eines neuen Strategischen Konzeptes der Allianz. Dieser Auftrag kann, nachdem die Außenminister den Bericht der sogenannten Reflexionsgruppe entgegengenommen haben, nur von den Staats- und Regierungschefs erteilt werden.
Zwischenzeitlich wurde am Schumann-Platz der Versuch unternommen, den semantischen Streit über die strategische Autonomie der Europäer, der in einem Schlagabtausch zwischen dem französischen Staatspräsidenten Macron und der deutschen Verteidigungsministerin Kramp-Karrenbauer einen Höhepunkt fand, zu befrieden. Selbst der EU-Ratspräsident Charles Michel macht die Dimension deutlich: Es geht um mehr als die militärische Dimension von strategischer Autonomie. Auf unsere Nachfrage sagte er in einem Pressegespräch: Strategische Autonomie umfasse alle Lebensbereiche. Die EU müsse sich robuster aufstellen und ihre Abhängigkeiten reduzieren, die gerade durch die Krise um COVID-19 offensichtlich wurden. Dabei sei auch das Verhältnis mit China zu reequilibrieren, und zwar nicht nur wegen des Fairplays in den wirtschaftlichen und Handelsbeziehungen. Letztendlich muss sich die Selbstständigkeit Europas auch in der digitalen Aufstellung und in der Klimapolitik niederschlagen. Dazu fasste der Brüsseler EU-Gipfel einen richtungsweisenden Beschluss: Bis 2030 soll der Ausstoß von Treibhausgasen um mindestens 55 Prozent unter den Wert von 1990 sinken. Auf strategische Autonomie angesprochen, wird der EU-Außenbeauftragte Josep Borrell fast – im guten Sinne – spitzbübisch, indem er das Gegenteil, also Abhängigkeit an die Wand malt, um dann bei einer wirtschaftlichen Souveränität Europas zu enden. Strategische Autonomie ist das, was Europa widerstandsfähiger macht in Bezug auf digitale Wirtschaft, auf die Rolle des Euro als globale Währung, auf Energie, auf Klima und im internationalen Handel.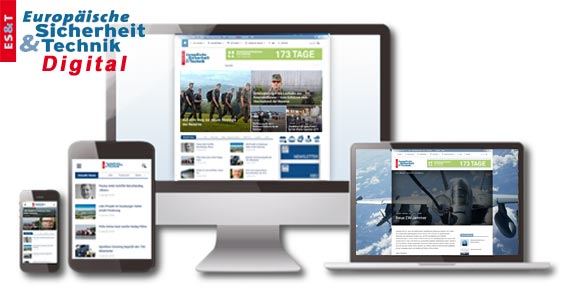 Enjoy the premium content and other benefits ofESUT Digital:
Access to all online content
Comprehensive search in the news archive
Customizable news area
Backgrounds, analyzes and technical articles completely and exclusively from the European security and technology and the defense reports
Current news from the categories Industry / Internal Security / International / Land / Air / Politics / Armaments / Sea / Armed Forces and much more.