Defense technology is on the verge of the material technology revolution, which should lead to stronger, lighter and more durable components. The key to this revolution are composites. These materials open up a multitude of new possibilities.
Metals such as steel and aluminum alloys have long been considered the answer to the demands of defense technology. However, if you want to be and remain successful in the long term, you shouldn't ignore the new technologies, because times change and the competition knows that too. With the necessary experience and the corresponding know-how in the field of defense technology, errors in development can be avoided in advance and the development time can be significantly shortened.
This is where the Hintsteiner Group comes into play
The company deals with the as a supplier Development and production of lightweight defense components made of fiber composites. Components for defense technology must combine the factors of safety, durability, resilience and lightness. Above all, however, the reduction in weight is one of the key requirements of modern developments in defense technology today. Because of this, innovative fiber composite materials such as carbon, aramid, basalt, Vectran or Zylon are attracting more and more attention. As a result, the use of structural components made of composites is increasingly coming into focus. It is easy to explain why it is worth switching to lightweight carbon structures in defense technology:
Tremendous weight reduction with an accompanying increase in mobility
The advantages of composites have long been known in motorsport and have been tried and tested a thousand times over. The use of carbon not only enables the realization of aerodynamic shapes, which can hardly be produced with other materials and processes, but also a clear one Reduction of the part and total weight.
Weight reduction compared to Aluminum components up to 50%
Weight reduction compared to Steel components even up to 80%
Accordingly, carbon sets the weight benchmark with a Density of 1.5 g / cm³ compared to aluminum with 2.8 g / cm³ and steel with 7.8 g / cm³.
In defense technology, this material advantage comes into play not only in equipment components, but also in commercial vehicles, launcher systems, electro-optics and platforms. The weight reduction through lightweight carbon components enables faster acceleration, greater agility, higher precision, shorter braking distances and significant savings in fuel costs. In addition, military infrastructure, as well as soldier equipment, is easier to transport and handle. The mobility of task forces is thus significantly increased!
Unique shapes and designs
As highly innovative materials, composites enlarge the world Construction and design leeway and with it the innovative strength. In contrast to classic manufacturing processes and materials complex geometrieshow to realize undercuts with fiber composite technology comparatively easily. Restrictions due to the adherence to bending radii or wall thicknesses are just as little a problem when working with carbon as the need to use rib structures. In addition, technical components such as thread inserts or fitting sleeves can be integrated directly into the manufacturing process and do not require any complex rework.
Functionalization of components through the direct integration of technical elements (sleeves, inserts, coolant lines, ...)
Composites also set new standards with regard to component size: Because when manufacturing carbon components using prepreg autoclave technology, larger components can be produced than using the investment casting process. Also the The number of welded joints susceptible to thermal expansion is reduced thus clearly.
Extreme stamina under the most extreme conditions
Fiber composite materials are not only convincing in terms of their weight, but also theirs Resistance and resilience make them the ideal material for defense technology components: carbon is not only four times more resilient than aluminum, but is also characterized overall by a high rigidity and fatigue strength, A hardly measurable thermal expansion (from 10-6 * K-1) and a high one Permanent temperature- And Corrosion resistance out.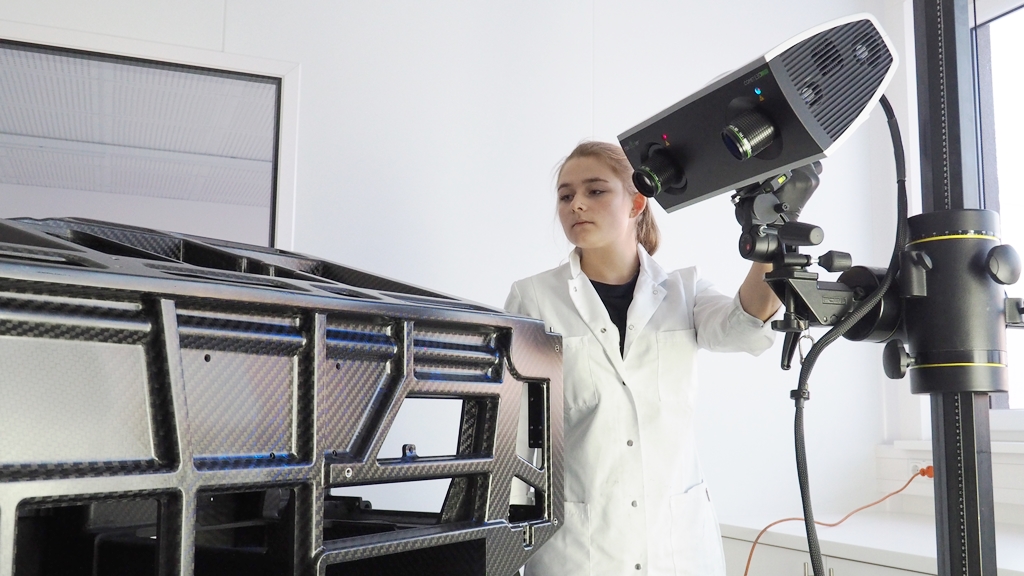 Composites are therefore perfect for use in environments with adverse conditions and large temperature fluctuations, but also for marine components that are in constant contact with salt water.
hardly measurable thermal expansion (from 10-6 * K-1)
High vibration resistance
Corrosion Resistant
That carbon fiber reinforced plastics no fatigue behavior like aluminum that tends to crack under constant load is therefore just another argument in favor of manufacturing from composites. Carbon can also cope with fire better than cast metal. While cracks quickly form around holes in the latter, composite components are also protected against component failure in this case and can be repaired again.
Increased service life through chemical resistance
The chemical resistance of the material also speaks for its use in defense technology. Carbon is therefore largely resistant to aggressive chemicals and corrosion, which leads to an increased service life of the most diverse defense components. Carbon fiber reinforced plastics are therefore resistant to corrosive substances such as phosphoric and acetic acid, sulfur dioxide gas dry, methanol, ethanol, chloroform, mineral oils, petrol and hydrochloric acid.
Chemically resistant to aggressive media
Biocompatibility
In addition, carbon is biocompatible. The Biocompatibility describes the non-existent negative influence of materials on living beings and their environment. This property is especially important for components that are worn close to the body by emergency services.
Load-tested through use in high-performance industries
In technologically advanced industries such as motorsport, aviation and the high-end automotive industry, carbon is already considered a key material of the 21st century. Innovative defense technology companies can therefore choose from a wide range of Range of empirical values create similar load-oriented fields of application.
Proven use in innovative industries such as motorsport and aviation
Whether knowledge of lightweight and dimensionally stable components with very good fire properties from civil aviation or expertise in safety-relevant structural components from racing. The adoption of tried and tested construction and manufacturing processes in defense technology opens up enormous innovation potential.
Unlimited usability
For some time now, defense technology has benefited greatly from the innovative carbon material due to the properties described above. These properties also mean that the material can be widely used in defense technology. From platforms and structures for missile and launcher systems, to components for military means of transport, to equipment for soldiers and military infrastructure - carbon has a wide range of uses. This universal applicability of carbon is therefore another positive reason that speaks for the use of the material in defense technology.
Conclusion: The trend reversal in the material technology area of ​​defense technology has heralded!
The advantages of composite materials speak for themselves and, after decades of successful use in high-tech industries, are now also finding their way into defense technology. With an optimal fiber-appropriate construction and well-founded manufacturing know-how, they can offer more than just a forehead to classic materials such as steel and aluminum alloys and ultimately solve the conflicting goals between the factors of safety, durability, resilience and lightness in an innovative way.
Hintsteiner Group
The Hintsteiner Group is Austria's leading manufacturer of prototypes and small series productioncarbonandPlastics. Around four decades of experience in the development and manufacture of high-quality lightweight components and the cross-technology know-how make the company a reliable and innovative partner for well-known and leading companies in defense and security technology.
Due to the progressive development activities on the subject of lightweight construction in defense technology, this sector has meanwhile become the largest that the Hintsteiner company serves. From components for military vehicles and equipment for soldiers to platforms and structures, the company develops and produces components for a wide variety of defense applications.
Hintsteiner Group GmbH
Kirchengasse 1
A-8644 Mürzhofen
Tel .: +43 3864 2336-0
E-mail: office@hintsteiner.at
www.hintsteiner-group.com
LinkedIn: Hintsteiner Group GmbH