A new mobile solar container was presented as a supplier of electrical energy for off-grid applications in microgrids. Field camps for the armed forces, camps for refugees and the homeless after disasters are often set up as needed without taking the infrastructure into account. For their operation, a reliable supply of electrical energy is required for water treatment and food preparation, for communication, lighting and heating. Commercial applications include the exploration of raw materials and major events.
The demand for electrical energy can be covered with microgrids - i.e. networks with a defined range of services for a limited group of users. The core of such a microgrid is the generation, storage and distribution of electrical energy to consumers.
On September 29, 2020, Faber Infrastructure GmbH presented the functional demonstrator of a mobile solar container to a specialist audience in the Hugo-Junkers hangar in Mönchengladbach, the series production of which can begin this year.
Around 120 m² of photovoltaic elements (unfolded) with a peak output of 24 kWp, a Li-Ion battery set with 80 kWh storage capacity and a 15 kVA diesel generator as a backup are housed in a standard 20 "container. This achieves a maximum connected load of 42 kW. The assembly is based on the plug-and-play principle: no specialist personnel are required for assembly, dismantling and commissioning.
After the container was set down, two fitters began to unfold the solar panels, which, densely packed, take up around two thirds of the container volume. Almost self-explanatory are the handles for opening and supporting the compact pivoting wing construction and for spreading out the 64 photovoltaic elements.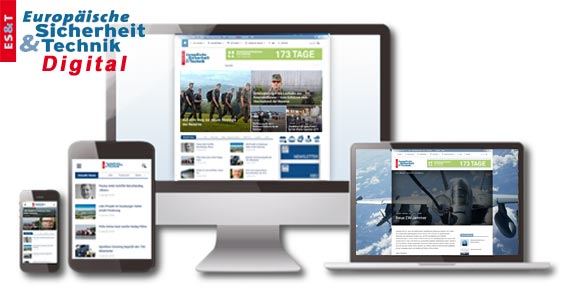 Enjoy the premium content and other benefits ofESUT Digital:
Access to all online content
Comprehensive search in the news archive
Customizable news area
Backgrounds, analyzes and technical articles completely and exclusively from the European security and technology and the defense reports
Current news from the categories Industry / Internal Security / International / Land / Air / Politics / Armaments / Sea / Armed Forces and much more.