The Dutch joint support ship "Karel Doorman" is currently in the Caribbean to provide humanitarian aid in connection with the corona pandemic. The amphibious multi-purpose ship has a special connection to the naval battalion and thus also to Operation Flotilla 1 in Kiel. Because the ship is part of the Dutch-German naval cooperation, and it has been formally used by both armed forces since 2016. At the signing of the Letter of Intent between the two states, the then Federal Minister of Defense Ursula von der Leyen said: "Today we are also laying the cornerstone for a lighthouse within maritime cooperation. We will integrate the naval battalion of the German Navy into the Royal Dutch Navy. Both together will use the Dutch ship. In my eyes, it is a prime example of the establishment of a European Defense Union that we are experiencing today. "
ES & T: Mr. Admiral, against the background of these political declarations of intent from 2016: Where do we stand today and what about cooperation in practice?
Buck: Obwohl das Seebataillon erst 2014 aufgestellt wurde, kann ich heute bereits mit einem gewissen Stolz behaupten, dass sich der Verband stark weiterentwickelt und sich zu Recht einen tollen Ruf innerhalb der Marine und bei den internationalen Partnern erarbeitet hat. Die Kooperation läuft gut. Ich denke da an die gemeinsame Teilnahme mit dem Korps Mariniers an der Amphibious Task Group 2020 als Teil der NATO Response Force. Das Seebataillon beteiligt sich dort aktuell mit einer verminderten Kompanie, inklusive Unterstützungs- und Kampfunterstützungskräften. Hervorzuheben ist natürlich auch der gemeinsame Katastrophenhilfe-Einsatz auf den Bahamas im Zuge des Hurrikans Dorian im September 2019. Wir haben zudem viele Ausbildungsvorhaben zusammen bestritten, etwa das arktische Wintertraining in Norwegen, bei dem niederländische und deutsche Marineinfanteristen über Wochen Seite an Seite unter widrigsten Bedingungen zusammen gekämpft und gelitten haben. Regelmäßig schicken wir Seesoldaten zu Manövern in niederländische Gefechtsstände oder Stäbe. Und wir haben vergangenes Jahr zwei deutsche Marineinfanterieoffiziere dauerhaft in die Niederlande versetzt. Ein Stabsoffizier arbeitet mittlerweile im Führungsstab der Netherlands Maritime Forces in Den Helder als Operationsstabsoffizier für den Bereich Amphibik. Ein weiterer Offizier ist im Marine Training Command in Doorn für Ausbildung zuständig. Dazu kommen die personellen Verbindungen zu den britischen Royal Marines beim 47 Commando in Plymouth. Ziel all dieser Maßnahmen ist, und das ist konzeptionell nun auch gefordert, der Gewinn weiterer Erfahrungen im Bereich Amphibik. Die Deutsche Marine muss irgendwann selbst in der Lage sein, deutsche Staatsbürger aus dem Ausland vom nassen Strand zu evakuieren. Also nochmal: Wenn ich das alles zusammenfasse, komme ich zu dem Schluss: Es läuft viel. Davon läuft auch vieles gut. Man verzahnt zwei Verbände aber nicht ohne Weiteres. Dieser Prozess dauert lange, er hat mit Gewöhnung zu tun, betrifft viele Ebenen in allen Streitkräften der Partner. Von der politischen Leitung bis zum Infanteristen am Strand muss diese Zusammenarbeit gelebt werden. Am Ende dieses Dauerlaufs sind wir natürlich noch lange nicht.
ES & T: If you could clarify this further, please, what else has to happen?
Buck: We have recently completely revised the order of the naval battalion and adapted it to the needs of national and alliance defense as well as German-Dutch cooperation. The new focus of the association is the ability to amphibious operations and combat in the maritime environment. In the long term also as a closed battle group. The former order of the naval battalion and its predecessor associations, focused on the protection of naval facilities, is no longer the focus and has been significantly expanded. The structure and organization of the naval battalion must of course take account of the new mission of the association. And the association needs the necessary material, in particular to be able to fulfill the amphibious assignment with the partners.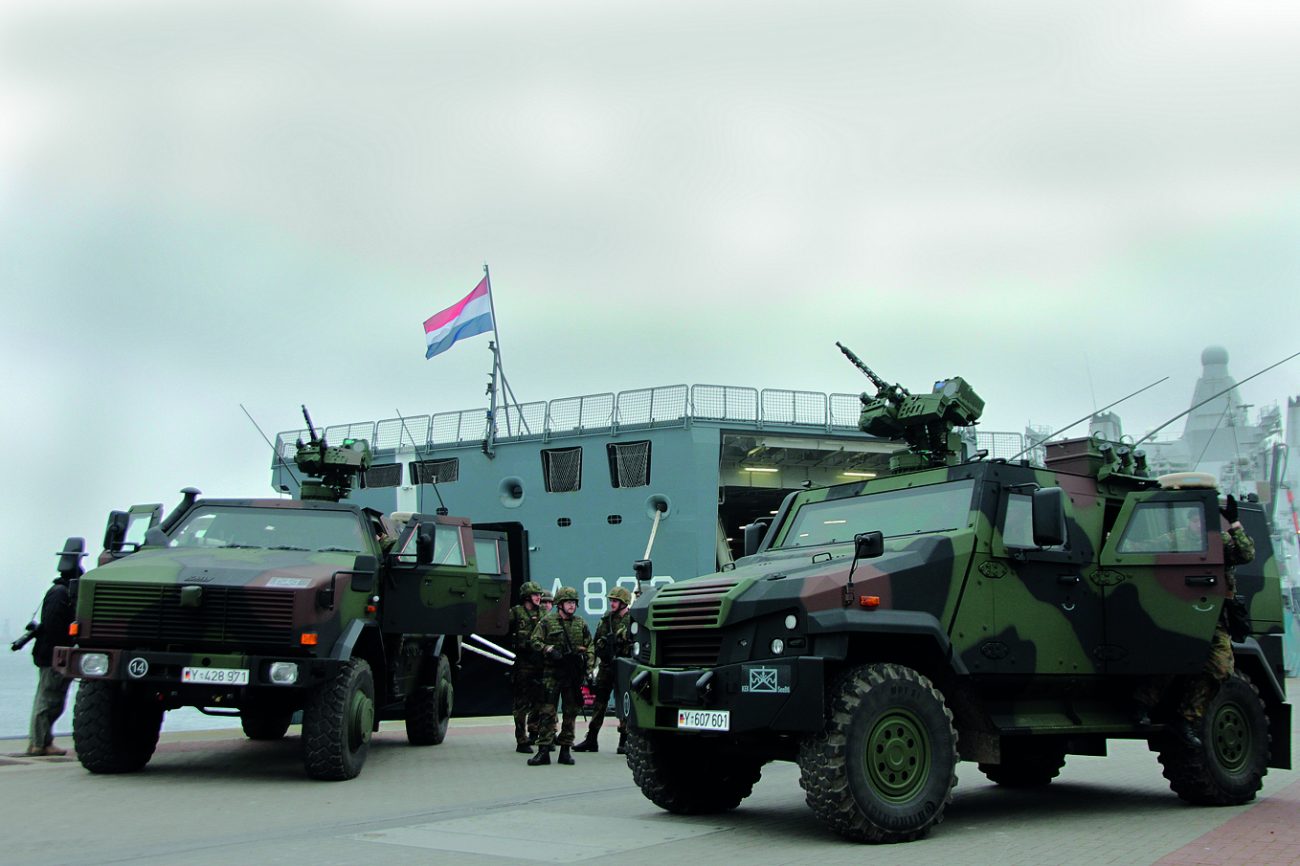 ES & T: What material are you thinking of?
Buck: First and foremost, our amphibious forces lack suitable emergency boats with which they can operate quickly, flexibly and with their own firepower in a maritime environment, especially near the coast. The facets range from evacuation operations, humanitarian aid, port protection to escort operations and combat operations for small amphibious operations. Such boats can also be used for the laying of defensive or protective minefields and reconnaissance operations with the use of drones. I also consider such boats as a contribution to the cooperation with the Dutch amphibious forces. It makes sense and is optimal if both nations use the same type of boat. That the training on the boats is harmonized. That they are used according to the same tactical principles. This ensures tactical and operational reliability on both sides. And it makes it enormously easier to exchange personnel and use forces together.
ES & T: To our knowledge, the need for such boats has long been recognized. When can the troops expect the influx?
Buck: Ja, Sie haben recht. Der Bedarf ist von Seiten der Marine und dem Planungsamt anerkannt. Wir befinden uns derzeit in der Analysephase und definieren die Anforderungen an die Boote, also die technischen und funktionalen Forderungen. Ich würde mich freuen, wenn der erste Baustein in der Analysephase dieses Jahr noch abgeschlossen werden kann. In der aktuellen Situation kann Ihnen aber niemand sagen, wann genau und welche Boote zulaufen werden. Ich hoffe aber, genauso wie die Truppe, dass der Zulauf nicht mehr allzu lange auf sich warten lässt. Wie fordern keine technisch hochkomplexen Meisterstücke, sondern robuste, schnelle und ausdauernde Boote, wie sie auch seit vielen Jahren in anderen Marinen erfolgreich eingesetzt werden. Also einfaches Wehrmaterial. Solche Boote sind marktverfügbar. Das Rad muss nicht neu erfunden werden. Es wird also nicht so schwer sein, geeignete Kampfboote auszuwählen und anzuschaffen. Dann wird in einem ersten Schritt dem Verband eine Erprobungsplattform zur Verfügung gestellt werden, um auch die Schulung erster Stammbesatzungen zu ermöglichen. Ich kann Ihnen versichern, dass das Seebataillon, mein Stab und ich selber weiter mit aller Kraft an diesem zukunftsträchtigen Thema arbeiten und die Beschaffungsorganisation unterstützen werden. All dies dient dazu, die Leistungsfähigkeit und Auftragserfüllung des Seebataillons, insbesondere im Kontext der Partnerschaft mit dem Korps Mariniers, weiter zu verbessern. Ich bin unheimlich stolz, diesen einzigartigen und jungen Verband so weit vorne zu sehen. Ohne ihn fehlte der Toolbox der Einsatzflottille 1 und der Marine insgesamt eine immens wichtige und vielseitige Fähigkeit.
Asked the questionsHans Uwe Mergener.