"HMS Prince of Wales" wearing the white Stander, which establishes the aircraft carrier as part of the operational fleet of the Royal Navy since December 10 of 2019. In the presence of the namesake and his wife and another 2,000 guests, the sister ship of the "HMS Queen Elizabeth" was put into service in Portsmouth. The ceremony fell on the 78th anniversary of the fall of the seven name predecessors ( "HMS Prince of Wales" was a battleship of the King George V class, the front during World War II at a Japanese air attack on December 10, 1941 the east coast of the Malay peninsula was sunk. She was involved in the hunt for the "Bismarck" in May 1941.).
The construction of "HMS Prince of Wales" began in 2011. She left the drydock on 21 December 2017 began on 22 September 2019, the sea trial (ESuT reported) And expired on 16 November 2019 for the first time in a home base Portsmouth. There was for the two carriers of the Queen Elizabeth Class 27 million euros in a private pier, which, Princess Royal Jetty 'invested. At present, it is assumed that the "HMS Prince of Wales" will have from 2023 reaches its full operational capability (FOC).
With a displacement of 65,000 tons, 284 meters long and 73 meters wide, the two carriers are considered the two largest and most advanced warships ever built for the Royal Navy. Originally designed for up to 36 F-35B, the Royal Navy a, 24 stationing 'intends these fighter jets on board (application tasks for twelve standard tasks) plus helicopter. The construction costs are given each 3.7 billion euros. They should remain in service for the next fifty years.
Mit der Queen-Elizabeth-Klasse gewinnt die Royal Navy die Fähigkeit zur 'power projection' zurück, die sie 2011 mit der Außerdienststellung der VSTOL-Kampfflugzeuge Harrier und endgültig 2014 mit Umbau der "HMS Illustrious" zum Hubschrauberträger aufgegeben hatte ("HMS Ark Royal", der andere Träger, schied bereits früher aus dem Dienst). Allerdings auf einem Niveau, das über dem liegt, das mit den Trägern der Invincible-Klasse (zu denen die "HMS Illustrious" und "HMS Ark Royal" gehörten) erreicht wurde. Dies liegt nicht nur an den Dimensionen, ausschlaggebend ist (mindestens) ebenso die Auswahl des Träger-Kampfflugzeuges. Insgesamt hat das Vereinigte Königreich 138 F-35B für die Royal Air Force und die Royal Navy bestellt. Nach jetzigem Stand wird erwartet, dass die letzte Maschine des ersten Loses von 48 im Jahr 2025 zuläuft. Somit stehen in den ersten Jahren nicht genügend F-35B für den Einsatzbetrieb auf den Trägern zur Verfügung. Bisher hieß es, dass mindestens 24 der Flugzeuge bis 2023 für den Einsatz an Bord eines Flugzeugträgers der Marine verfügbar sein würden. Daher wird davon ausgegangen, dass die "HMS Queen Elizabeth" ihre Einsätze im Jahr 2021 mit einer gemischten Bordkampffliegergruppe aus britischen F-35B und Maschinen des US Marine Corps bestreitet.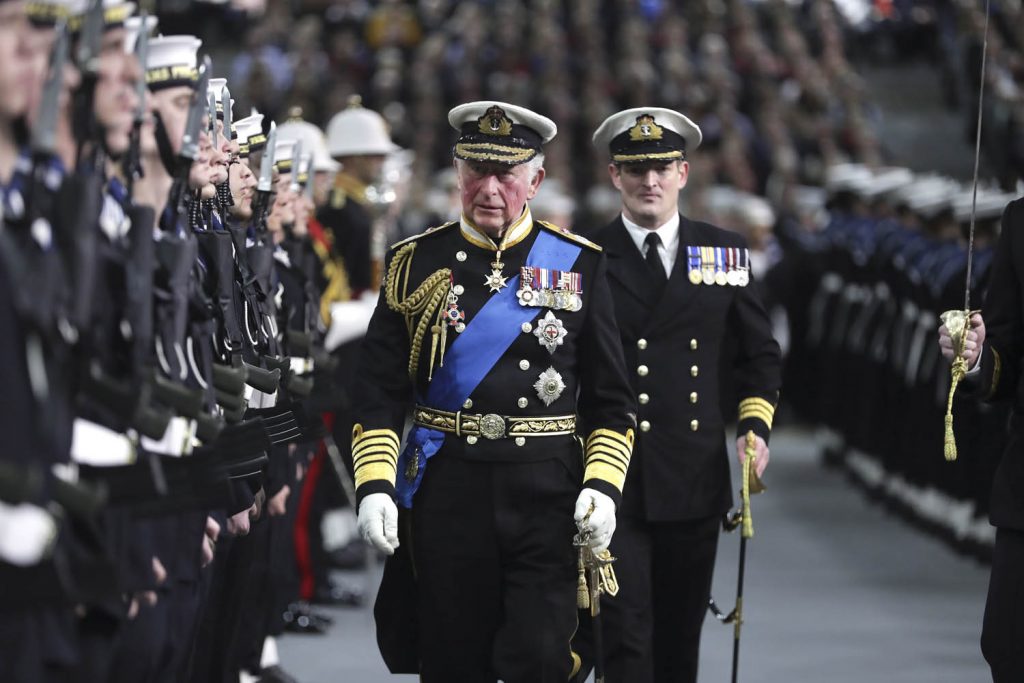 The Royal Navy honored the Prince of Wales to the entry of the ship of the same name in a special way. From now on he is regarded as "Honorary Commodore-in-Chief, Aircraft Carriers." A title to it by the First Sea Lord, Admiral Tony Radakin, the Queen was presented with the blessing of Her Majesty.
Hans Uwe Mergener