TELEFUNKEN RACOMS provides new optronics for reconnaissance Wiesel and Wiesel MK 20
The Federal Office for equipment, information technology and use of the Bundeswehr (BAAINBw) has TELEFUNKEN RACOMS with the delivery of new-vehicle reconnaissance sensors for the weapon carrier Wiesel 1 of the Bundeswehr. This was announced by the company in a press release today.
One component of the combat effectiveness of the Wiesel 1 fleet consists in modernization of the optronic sensor system for reconnaissance, impact and fire control. The authorized EOPTRIS LR devices 20 are provided on their behalf for the scaffolding in the reconnaissance vehicles Wiesel 1 and weapons Wiesel 1 MK.
The scope of services includes the electro-optical sensors, control and display units, as well as training and documentation, so TELEFUNKEN RACOMS.
EOPTRIS LR
EOPTRIS LR is a compact and lightweight electro-optical fire control and monitoring system. The sensor configuration includes a cooled thermal imaging camera, a CMOS day vision channel and a laser rangefinder. The Waffenballistik is configured in the software and can be adapted to different weapons systems. Thanks to its modular architecture concept, the EOPTRIS LR can be customized for observation and weapon stations for medium to long distances.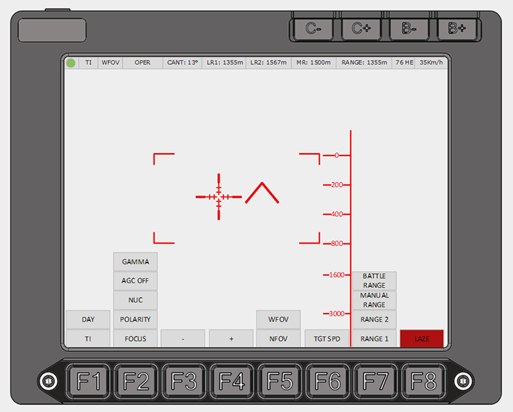 The EOPTRIS LR is a customized solution that can be configured as a standalone sensor or a fire control system with integrated functions for increasing the accuracy. The reconnaissance sensor is used with several partners and NATO could prove there under extreme environmental and operating conditions.
Here, the EOPTRIS LR optional image stabilization, integrated GPS, and several digital and analog interfaces can have the vehicle. The operation of the EOPTRIS LR via a special display and control unit or alternatively integrated into vehicle systems.
Life Extension Wiesel 1
The BAAINBw launched the call for competition Life Extension on 25/12/2018, maintenance / -setzung Wiesel first subject of the tender was the life extension of total of 181 Wiesel 1 and repair Maintenance Level three with malicious shutdown. Wrote "The aim is that the design status is unified under this order, so-that in the end instead of nine variants of the Wiesel 1 only four variants exist." The BAAINBw in public Notice, The contract for the Life Extension is imminent; about 25 million submission of the German Bundestag was advised on 06 November 2019 and approved the budget committee.
The Federal Ministry of Defense writes: "For around 73 million euros to be made 196 tracked vehicles of the type Wiesel 1 fit for further use. The small, lightly armored tracked vehicle is used as a weapon carrier in the infantry, among others, antitank, against lightly armored forces and as a reconnaissance vehicle. The Wiesel 1 are transported by air and are available for use until at least the 2030th "
Waldemar Geiger