The British Ministry of Defense has to announce on the DSEI that the Babcock team 31 - with eg BMT, Thales and Saab led by Babcock - as preferred bidder for the delivery of the planned five new warships, frigates Type 31 has been selected. BAE Systems had withdrawn from the competition, a consortium led by Atlas Elektronik UK with thyysenkrupp Marine Systems did not come into play.
the technology-based frigates to be built at a price of around 280 million euros in the period 2021-2027 on the basis of Babcock designs Arrowhead 140th The first unit will be commissioned 2,023th
Among the key demands of the Royal Navy include a medium caliber gun (≥ 57 mm), a system for point target engagement (including the air defense), a flight deck for a ten-ton helicopter, as well as launch and landing facilities for unmanned aerial vehicles.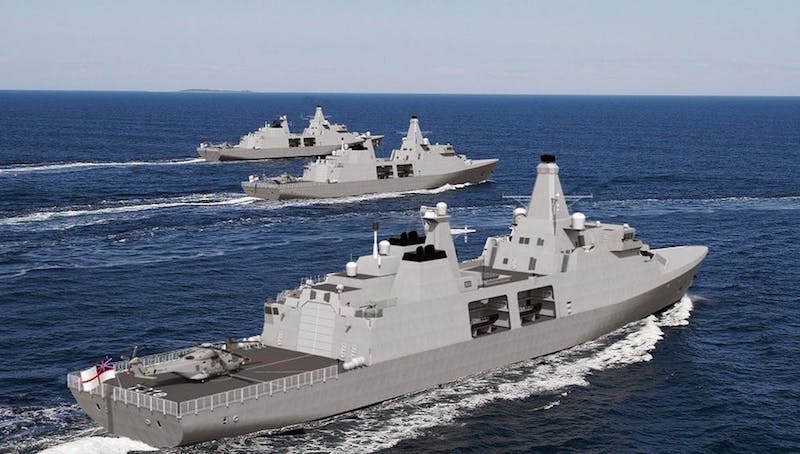 The approximately 140-meter-long multi-purpose frigate Arrowhead 140 is designed for a crew of 100 people and can accommodate another 60 people. Container Station are provided for housing and for mission equipment. The drive serve four diesel engines with a total of 32.8 MW for a cruising speed of 33 km / h (top speed over 50 km / h).
As armament a mix of guns and over- and under-water missile is provided, including a system for local and closest to the field of defense. For guiding the tactical control and information system tacticos Thales is used, through which the information and effect of the entire system is controlled. Raytheon Anschütz delivers Integrated Navigation and Bridge System (Warship Integrated Navigation and Bridge Systems, WINBS) and is thus represented in all British warships.
After completion of the negotiations with the MoD of the supply contract is expected by the end of the year and Babcock starts with the construction preparations.
Gerhard Heiming