Due to obsolescence all G22 (Manufacturer Accuracy International Ltd., caliber .300 Win Mag) are converted, the only way the ability sniper in the army currently be obtained. The only exceptions are the special forces - Special Forces Command (KSK), and the command Special Forces of the Navy (KSM). Early 2019 Accuracy International (AI) and their German representative POL-TEC by the BAAINBw with the commissioned modernization.
AI will upgrade the current G22 and G22A1 to version G22A2, a total of 780 weapons. The caliber 7.62 x 67 mm (.300 Win Mag) is maintained. The updated G22A2 sniper rifle was introduced in 2018 by Accuracy International. It is an all-weather rifle for day and night use in AX style with user configurability and mission adaptability. The rifle has a continuous rail system and a folding to the right shaft that goes beyond the bolt handle. The updated G22A2 is in color AI Pale Brown with extensive accessories. All weapons are to be delivered to the 2020th
When retrofitting to G22A2 practically a complete conversion takes place, except for a few core modules everything is replaced. So the G22A2 features a new aluminum chassis of the AX system. The closure, securing and trigger mechanism remains the same. As novelties the weapons receive a BT12 QC Accu-Shot Precision Rail Monopod (PRM) and BT46-LW17 Precision Sniper Rifle (PSR) Atlas bipod, both from B & T. In addition, a new muzzle brake of AI and the new look the Steiner Military M5Xi 5-25 × 56 MTC LT LPF - which therefore corresponds to the look of the G29. With the optics Steiner the Hensoldt be replaced 3-12 × 56 (G22), and the Schmidt & Bender 3-12 × 50 (G22A1).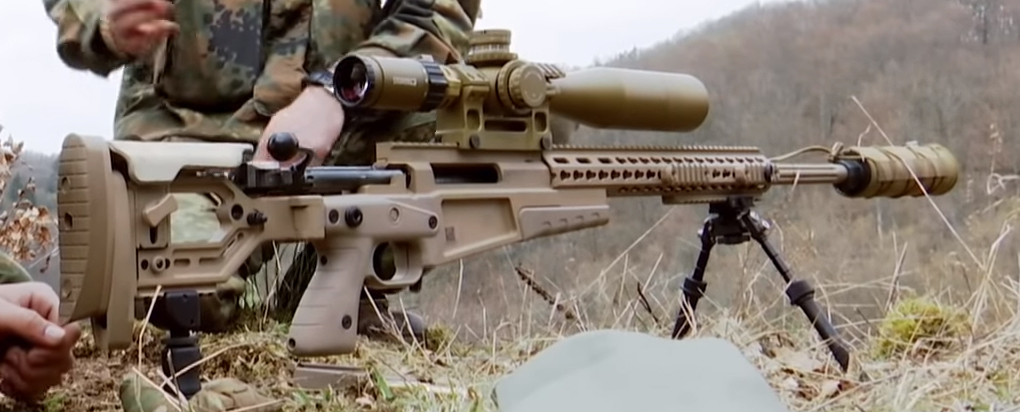 Another new comprehensive accessories package is added. Among other things, these include a red dot sight, a new case made of pressure-resistant polymer, a coating for the signature damper (TAB Gear), a multi-tool (Victorinox AG), two Case Guard cartridge boxes for 20 cartridges (MTM Molded Products Company) a drag bag; a carrying sling as in Biathlon, a belt magazine with four pockets (each five schussig), an orifice cover; three Übpatronen, cover for the sighting telescope, a plurality of pockets, a Kestrel 5700 Elite Ballistics weather meter with applied ballistics as well as a cleaning device. The conversions take place at Accuracy International.
In parallel, the Tender sniper rifle medium range prepared. With the new invitation to tender the army danger of not the same weapon as the sniper of the special forces to get the G29. The special forces had in turn received a contract for 115 pieces G29. Base comprises the CG Haenel RS9 caliber 8.6 x 70 mm(.338 Magnum Lapua).
André Forkert
In the following video the G22A2 in use at the ESD forces of the Parachute Regiment can be considered the 26th