With Belgium and Portugal, two other NATO countries have decided their new vehicle families with the quick-fog protection system (Rapid Obscuring System) ROSY Rheinmetall to protect.
Portugal (NSPA) 139 patrol vehicles VAMTAC (Vehículo de Alta Movilidad TACTICO), lightly armored off-road 4 × 4 wheeled vehicles with up to four seats appointed in July 2018, NATO Support and Procurement Agency. For 126 of them Rheinmetall to supply in the period April 2019 to March 2020 ROSY protection systems that will be installed in the vehicles of the Spanish manufacturer URO Vehiculos Especiales SA (UROVESA).
Belgium has ordered Jankel 199 Light Troop Transport Vehicle (LLTV) that are produced from February 2020 to year-end. Base is a four wheel drive Mercedes Unimog chassis with easily replaceable modules mission (for example, for special forces parachute or ambulance). Added Schutzkits, weapon stations and roll bar for need-based adaptation of the vehicles. All vehicles are prepared for the use of ROSY systems. Rheinmetall to supply cranes and launchers for 167 vehicles, starting in May 2019 the Vorserienauslieferung.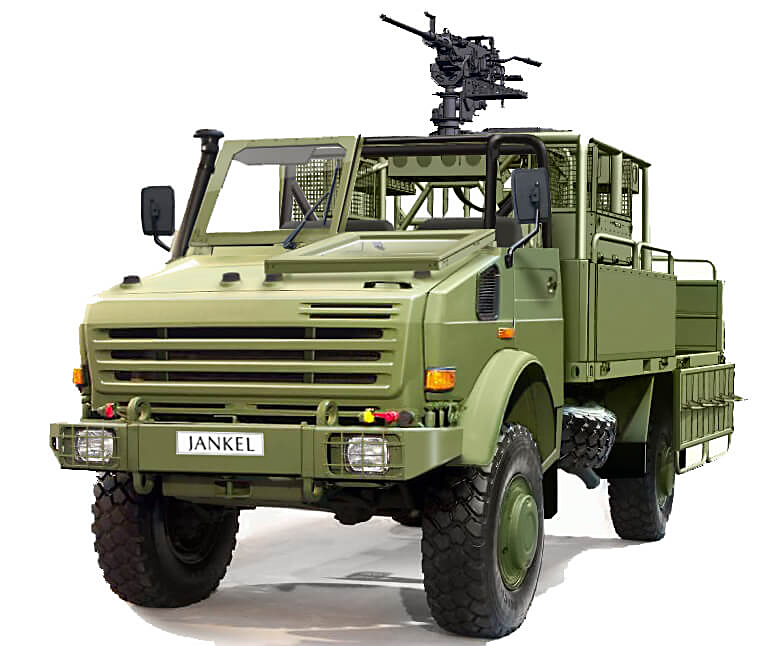 With these two contracts in the mid single-digit million euro range Rheinmetall Quick fog protection system ROSY is now in eleven countries. It provides protection against attack by making vehicles through a smoke screen for the opponent invisible. Unlike conventional fog protection systems can also create dynamic smoke screens besides the spontaneous, large-scale and multi-spectral line-break and thus protect propelled objects persistent.
The multi-mission capability of the protection system with 360 ° protection ensures the defense of multiple attacks (Stream and Wave Attacks). Through effective screening measures in the visual and infrared spectrum, including the built-in IR jamming and decoying effects all TV, EO, IR, IIR, LASER and semi-automatic command to line of sight-guided weapons can be effectively thwarted after giving Rheinmetall.
ROSY is available in different variants and can thus be adapted to the needs of different platforms. ROSY_L is generally suitable for all vehicles, and includes as a basic system, a control unit per vehicle, and one to four thrower which can accommodate two or three Magazine according to an embodiment. The modular version ROSY_Mod suitable for small weapons stations and small vehicles, how they use such as special forces. ROSY_Mod can directly - without launcher - and thus not visible integrated into the vehicle. ROSY_N was specially developed for the Navy and the Coast Guard to effective protection of smaller units.
Gerhard Heiming